Let our Bucket List Concierge™ Team plan your dream vacation now!
Contact Us
Africa Safari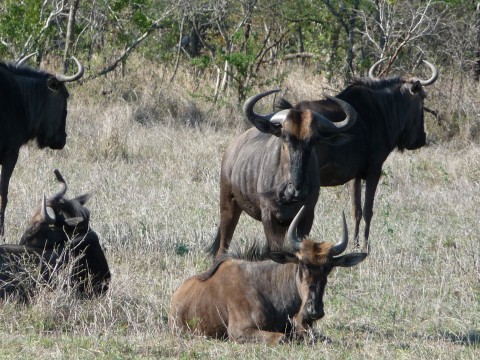 Africa Safari - the Ultimate Bucket List Adventure
Encountering the "Big 5" - elephant, leopard, lion, rhinoceros, and buffalo - on the plains of Africa is a moment you'll carry with you forever.
Below are several tours we recommend for their quality, maximum exposure to wildlife, and opportunities to learn about the culture and traditions of native peoples.
Call for today's prices. Tours are priced per person, double occupancy. Prices are subject to change based on departure date. Some tours may require the additional purchase of intra-Africa air. Please call us at 804-577-3006 or toll-free at 855-462-8253 for single and triple rates.
14 Days, Spectacular South Africa
This tour combines a traditional tour of South Africa with a two night visit and an open-air safari at the Kruger National Park, the largest game reserve in South Africa and a two night tour of the Featherbed Nature Reserve. You'll visit South Africa's cosmopolitan cities, posh resorts, expansive desert, magnificent wildlife and fertile wine country combine with a harmonious mix of many cultures to create a beautiful mosaic to discover on this 14-day tour.
14 Days, South Africa, Victoria Falls and Botswana
From cosmopolitan Cape Town to the power of Victoria Falls to the remote wilds of Botswana, this is the complete African travel experience. Gaze out from the top of Table Mountain. Explore the tip of the continent at the Cape of Good Hope. Make new friends during a home hosted dinner. Search out legendary wildlife and cruise the remote Chobe River. Marvel at the bio-diversity of the Entabeni Conservancy. And that's just the start. Multiple game drives and traditional culinary experiences provide the perfect blend of culture and thrills.
14 Days, On the Plains of Africa
On this fascinating safari adventure you'll explore the scenic vistas and magnificent wildlife of Kenya. During your exploration, discover the thriving culture and natural wonders that make this one of the most popular African countries to visit. Numerous safari game drives bring you in search of the "Big 5"- lion, elephant, buffalo, leopard, and rhinoceros. You'll also visit the Rothschild Giraffe Sanctuary. Your stay inside the beautiful Masai Mara game reserve features a traditional bush dinner with Masai dance performance and full day game drive. See all the stunning sights and gorgeous beauty of Kenya on this unforgettable adventure.
13 Days, Kenya and Tanzania
This vacation evokes safaris of yesteryear while offering an opportunity to get to know the "Big Five" in their natural habitats… With this popular Kenya safari tour you'll observe huge herds roaming the Serengeti, the "lost world" of Ngorongoro Crater, and free-ranging elephants in Amboseli National Park. You'll ride in a hot air balloon over the Masai Mara at dawn – capped by a champagne breakfast in the bush… view rescued chimpanzees and protected black rhinos on an excursion to the Ol Pejeta Conservancy… enjoy a special barbecue dinner accompanied by Maasai dancing at your lodge in the Serengeti… visit the William Holden Wildlife Education Center during a two-night stay at the Fairmont Mount Kenya Safari Club… meet the weavers of a local village… travel in exclusive open-top safari vehicles, and stay in luxurious tented camps and safari lodges – an unforgettable Tanzania and Kenya safari!
12 Days, Classic Tanzania
Stand in awe of the vast panoramas of Tanzania, a land of untouched landscapes, diverse wildlife and welcoming people. Get acquainted with the people and the food at Gibbs Farm, a historic coffee and vegetable farm. Continue on to Ngorongoro Crater, a large volcanic caldera and known as one of the seven natural wonders of Africa. Spend time in the Serengeti taking in five game drives, including two in the early morning to catch a glimpse of the wildlife returning from a night of hunting. Discover stunning Lake Eyasi, a beautiful oasis in the bush that boasts a tropical ecosystem. Gain a real insight into the way of life of some of Tanzania's fascinating tribe. Meet the Datoga tribe - skilled farmers, craftsmen and blacksmiths, and the Hadzabe tribe – learn how they hunt and live off the land. Explore Tarangire National Park, famous for its elephant migration and quiet atmosphere.
10 Days, Tanzania: Serengeti to Zanzibar
Embark on a grand safari within Tanzania's most renowned game reserves and enjoy the safari experience of a lifetime. You'll have an opportunity to observe Africa's Big Five – elephant, leopard, lion, rhinoceros, and buffalo – where they live, in their natural habitats. This very popular trip immerses you in the African safari and concludes on the tropical island archipelago of Zanzibar. Enjoy many different types of experiences on this journey, from soaring high above the Tanzanian savannah aboard a hot air balloon to sailing aboard a traditional dhow on the Indian Ocean off the coast of Zanzibar. Experience ancient, stunning landscapes, the spice bazaars of Stone Town and one of mankind's most important archaeological sites… travel by safari vehicles within Serengeti National Park, plus Ngorongoro Crater… and stay in luxury safari lodges, tented camps and a resort overlooking the sea for an in-depth, up-close African safari experience.
10 Days, Kenya and Tanzania Game Tracker
Discover the best game viewing circuit in East Africa. From Nairobi to Amboseli, Arusha, Ngorongoro, Serengeti, Masai Mara and Lake Naivasha,. Here in the birthplace of the safari lies Eastern Africa's most elite national parks and game reserves, teeming with giraffes, lion, cheetah and leopard. Witnessing hundreds of big-tusked elephants roam against the backdrop of Mt Kilimanjaro is one of life's great revelations. Enjoy several daily game drives with the most awe-inspiring wildlife interactions and scenery. Meet the nomadic Masai people. Cross into Tanzania to visit Arusha's famous souvenir markets or continue straight on to the cool heights of Ngorongoro. The Ngorongoro Crater is the world's largest caldera, an extinct volcano that is home to approximately 25,000 wild animals. Continue your African adventure past the Olduvlai Gorge on your way through the Serengeti game park for world class game viewing. Here you will have the chance to spot lion, leopard, cheetah and more! Finish your safari in the Masai Mara, the world's top game park, where you will see elephant, giraffe, lion and many more animals with your skilled private guide. Venture into the thick of the plains in search of zebras, gazelles, impalas, and of course wildebeests, who thunderously feed and migrate from the Serengeti and through the Mara area every year. Continue to Lake Naivasha for Kenya's only boat safari and nature walk on Crescent Island. Finish in Nairobi where you'll enjoy time for some final sightseeing, souvenir shopping or dinner before returning home from this incredible adventure.
8 Days, Tanzania Highlights
You're on the hunt to see the "Big Five" in the Serengeti on this popular shorter safari. Explore Tarangire National Park and scan the famous baobob trees in search of lions and leopards napping in the branches. Discover the diversity of the Ngorongoro Crater, the world's largest inactive volcanic caldera, where you'll have the opportunity to spot the rare black rhino amongst the large packs of hyenas and jackals. Cross over into the plains of the Serengeti, which boasts the largest population of lions and giraffe in all of Africa, and thrill at the sight of the annual wildebeest migration, one of the greatest highlights of any African safari.