Let our Bucket List Concierge™ Team plan your dream vacation now!
Contact Us
Alaska Group Tours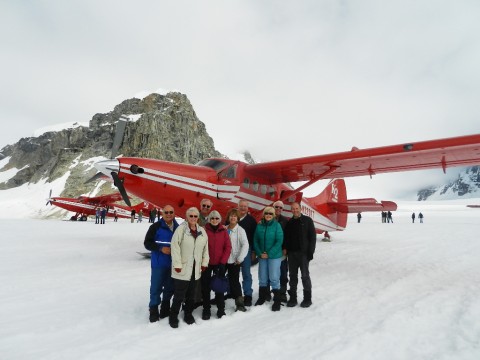 Alaska - the Ultimate Group Adventure
We have travelled to Alaska many times and escorted groups from the Inside Passage to north of the Artic circle. We always look forward to seeing something new and exciting. We can custom tailor most any itinerary for you and your group.
For those who do not wish to travel independently through Alaska or missed our 2016 group, we recommend the following 2017 escorted group vacations, renown for including the best of Alaska while respecting your budget and time.
We guarantee that you'll have your fill of dramatic scenery, wildlife encounters, outdoor adventures and more as you travel by rail, bus, floatplane, boat and ship to have the most amazing time of your life. We even include an opportunity to view the northern lights and be a part of the famous Iditarod race to Nome.
Call for today's prices. Tours are priced per person double occupancy. Please call us at 804-557-3006 or toll-free at 855-462-8253 for single, triple and quad rates.
15 Days; Grand Alaska - Combination Cruise and Escorted Tour
Experience a land of bald eagles, totem poles, calving glaciers, and majestic wildlife by land, sea, and air on Tauck's granddaddy of Alaska tours. Cruise the Alaska coast, Glacier Bay, and the Inside Passage aboard a Princess ship. Tour Anchorage, Juneau, Skagway, and Ketchikan… visit Denali and Wrangell-St. Elias national parks… take a flightseeing tour over glaciers, a scenic rail journey, a jet boat cruise in the wild and a rafting trip in a bald eagle preserve. Cruise Prince William Sound. Meet an Iditarod champion musher and his Husky sled dogs; visit a homesteader at her wilderness farm; and embark on a private whale-watching cruise!
13 Days, Alaska Discovery Land & Cruise
Relax for seven nights and enjoy the epic Alaskan scenery on this escorted group adventure. Cruise through the Inside Passage and Glacier Bay aboard one of Princess Cruise Lines lovely ships, taking in rugged natural wonders. Cruise the Sternwheeler Discovery and encounter Alaska's diverse culture and rich history. Enjoy three nights at stunning Princess' Lodges and Hotels. Ride a Luxury Domed Rail from Denali to Anchorage viewing incredible landscapes from glass-ceiling railcars and open air observation platforms as guides provide expert commentary. Travel deep into Denali National Park for the best opportunities to view the region's wildlife. Explore Alaska's gorgeous capital, Juneau. Visit Ketchikan, the "Salmon Capital of the World." Enjoy lively entertainment and a hearty feast at the Music of Denali Dinner Theater. End in vibrant Vancouver. Ten 2017 departure dates.
13 Days, Alaska and the Yukon
Surround yourself in unspoiled landscapes, ancient glaciers and an array of wildlife on your Alaskan and Yukon adventure. Take a trip through breathtaking Prince of William Sound to view its glaciers. Visit the small town of Tok, the original trade center for travelers coming from and returning to Canada. Set out for the "Gateway of the Klondike" – Skagway. Board a scenic sternwheeler for a cruise on the peaceful Chena River. In the heart of wilderness, be introduced to a family who has made the rivers of Alaska a way of life. Savor first-class Goldstar service on the Alaska Railroad on an adventure into Denali National Park and travel deep into the park on a backcountry adventure Tundra Wilderness tour. Along the way come to know all of the treasures of "the last frontier."
10 Days, Wild Alaska Interior Tour
Explore the wild heart of Alaska on this Tauck and BBC Earth small group tour! You'll travel to less-visited places of spectacular beauty and one-of-a-kind experiences… flightseeing the vast glacier-clad landscapes and peaks of Denali (America's highest mountain)... cruising the Kenai Fjord, known for its resident sea lions, dolphins, whales, bald eagles and dramatic vistas… bear-watching on Crescent Lake in salmon season, where the brown bears are close and numerous… making canine friendships at a kennel that raises champion sled dogs… wilderness hikes with an expert naturalist guide who offers invaluable knowledge and insights… meeting wildlife (like bison, elk, bears, and caribou) up close at a refuge for displaced and orphaned animals… gadgets and equipment used by professional wildlife photographers and filmmakers such as camera traps (for photographing wildlife after hours) and shotgun microphones / specialized microphones (for sounds not readily accessible to human ears)... and multiple-night stays at outstanding wilderness lodges.
10 Days, Grand Alaska Vacation
For those on a tight budget who wish to see interior Alaska, we offer this best value escorted tour because it travels both the Denali Park corridor from Anchorage to Fairbanks and travels by the Wrangell St. Elias National Park. This vacation also features a Prince William Sound cruise and a visit to Valdez. Hotels are moderate with overnight stays in Anchorage, Valdez, Fairbanks and Denali Park.
9 Days, Iditarod and Northern Lights
This is an ultimate winter get-away! This escorted vacation combines Alaska's two great winter attractions; the Iditarod, World Ice Art Championships and the Northern Lights. You'll stay in first class accommodations with overnights in Fairbanks, Chena Hot Springs and Anchorage. In Chena Hot Springs you'll travel in a 30' heated Yurt to a high point to witness the Northern Lights while enjoying a hot beverage and the next day indulge in the therapeutic warmth of the Hot Springs. Back in Fairbanks you'll be a part of the winter fun visiting the 25 acre Ice park watching carvers are work at the World Ice Art Championships. You'll leave Fairbanks by air to Anchorage in time for the Mushers' Banquet and even a ride in a dog sled! A day of lectured follows to hear experts discuss how mushers prepare for the Iditarod. On the following day its "Race Day" in downtown Anchorage as fans from around the world descend on Anchorage and lucky bidders get to ride in sleds with mushers as they leave the start chute. The last full day in Anchorage is the real start day for the Iditarod Race to Nome and you'll be there to count down to GO!
8 Days, Alaska's Coastal Grizzlies
While you've seen footage in nature documentaries of Alaskan brown bears in the wild, nothing will prepare you for the drama of an actual encounter with these magnificent beasts, just yards away. This trip is roundtrip from Kodiak to get you closer to giant brown bears—the world's biggest coastal grizzlies—in a wilder setting than anywhere else on Earth…safely on foot! You'll fly by floatplane to Katmai to cruise just offshore aboard a private chartered ship allowing unparalleled access for bear watching, in the most intimate of contexts. View bears foraging on the beach as we walk ashore in the careful company of a naturalist Expedition Leader, whose bear expertise adds immeasurably to your experience
8 Days, Alaska Call of the Wild
Designed for families, you'll travel by land, sea and air on this incredible Alaska vacation that begin with one night in Anchorage, then it's off to the northern interior. Meet Alaskan huskies at a dog sled training facility and soar above the foothills of Mt. Denali on a flightseeing adventure. Travel to Alaska's alpine playground in Kenai for a two-night wilderness lodge stay and a choice of activities including kayaking, river rafting and a guided wilderness hike in the Kenai River region. Cruise the Kenai Fjords with a naturalist who points out wildlife along the way. During your final two-night stay in Girdwood, visit the Alaska Wildlife Conservation Center to meet animals being rehabilitated (from moose to grizzly bears), and pan for gold at the Crow Creek Mine.
8 Days, Disney Alaska
This ideal family vacation is especially crafted for children with programs for as young as 6. The week includes a whitewater float trip on the Nenana River, private jet boat excursion, hiking in the Denali National Park, cruise of Resurrection Bay, bike rides in Anchorage and an Iditarod experience.
8 Days, Alaska's Inside Passage by Exploration Yacht
Your group will enjoy eight magical days onboard the magnificent yacht Le Soléal, cruising through Alaska's Inside Passage surrounded by some of the most dramatic scenery on Earth; a perfect combination of natural and cultural history. Travel though the awe-inspiring ice-capped waters of the Tracy Arm fjord, take a gentle float trip along the Chilkat River through an eagle preserve, and view undersea harbor life with an underwater camera. You'll have an opportunity to view some of the region's fascinating wildlife, including orcas, seals… and just possibly, the ever-elusive bears. Days are diverse, including a visit to a Gold Rush city… a visit to the ancient Chilkat Indian Village to explore local traditions… and a guided tour of the historic fishing city of Petersburg, where you'll attend a reception and dance performance at the historic Sons of Norway Hall, on the National Register of Historic Places. Cruise aboard the luxurious Le Soléal, with all outside staterooms; a choice of dining spots; all-day complimentary beverages, including wine and spirits; and more. Space is certain to fill quickly – make your reservations early!
8 Days, National Parks Vacation
This Escorted Tour travels roundtrip from Anchorage to the Kenai Fjords and Denali National Parks. This tour is a seven night vacation and includes breakfasts, tours of both National Parks and services of a full time tour director. You'll overnight in moderate hotels in Anchorage, Seward, Talkeetna and Denali.
7 Days, Alaska Explorer
Experience a wonderful seven day escorted tour including Fairbanks, a Riverboat cruise, the Alaska Pipeline, Denali National Park with Tundra Wilderness tour and Anchorage City which includes a visit to the Alaska Native Heritage Center. Hotels are moderate. Motor coach from Fairbanks to Denali. Rail from Denali to Anchorage