Bucketeer Rhine Cruise and Swiss Adventure July 2024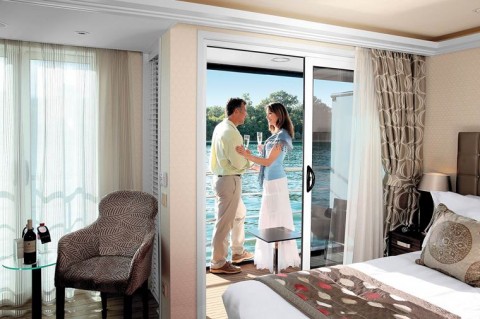 STARTING AT - $3,999 p/p dbl
7-N Cruise & 4 N in Switzerland

We love river cruising, having been on all of Europe's major rivers. And most of all, we love hosting our Bucketeers on these remarkable vacations.
In July 2024 we'll return again to Amsterdam and we invite you to join us on a relaxing 7-night river cruise on the elegant 156 passenger AmaSiena, recognized for award winning dining, plus 4-nights in Switzerland.
Dates: July 18 - 29, 2024
Sailing south on the mighty Rhine River from Amsterdam to Basel, Switzerland, we'll then continue on for a special 4-night stay in beautiful Lucerne and Zurich. We'll handle all the details.
Prices start at an amazing $3,999 per person, double occupancy. Please see below for a detailed itinerary and our group pricing by stateroom type.
Please call us at 804-557-3006 today.
Your price includes a 7-night luxury rivercruise with wine, beer and sodas at lunch and dinner, WIFI, choice of daily tours, and $100 shipboard credit per stateroom, plus 2-nights each in Lucerne and Zurich, Switzerland with breakfast, including enriching daily tours, transfers and portage service.
Our special group prices are good through June 30, 2023 and subject to availability so please do not delay. Call us today.
On an AmaWaterways river cruise, you will enjoy an extensive lineup of included tours. In many cases, you will have a choice of excursions, such as standard tours, bike tours, hikes and Special Interest Tours. You will delight in the large variety of activities so that you can choose how you want to explore. No matter your preference, your days will be full of discovery and wonder.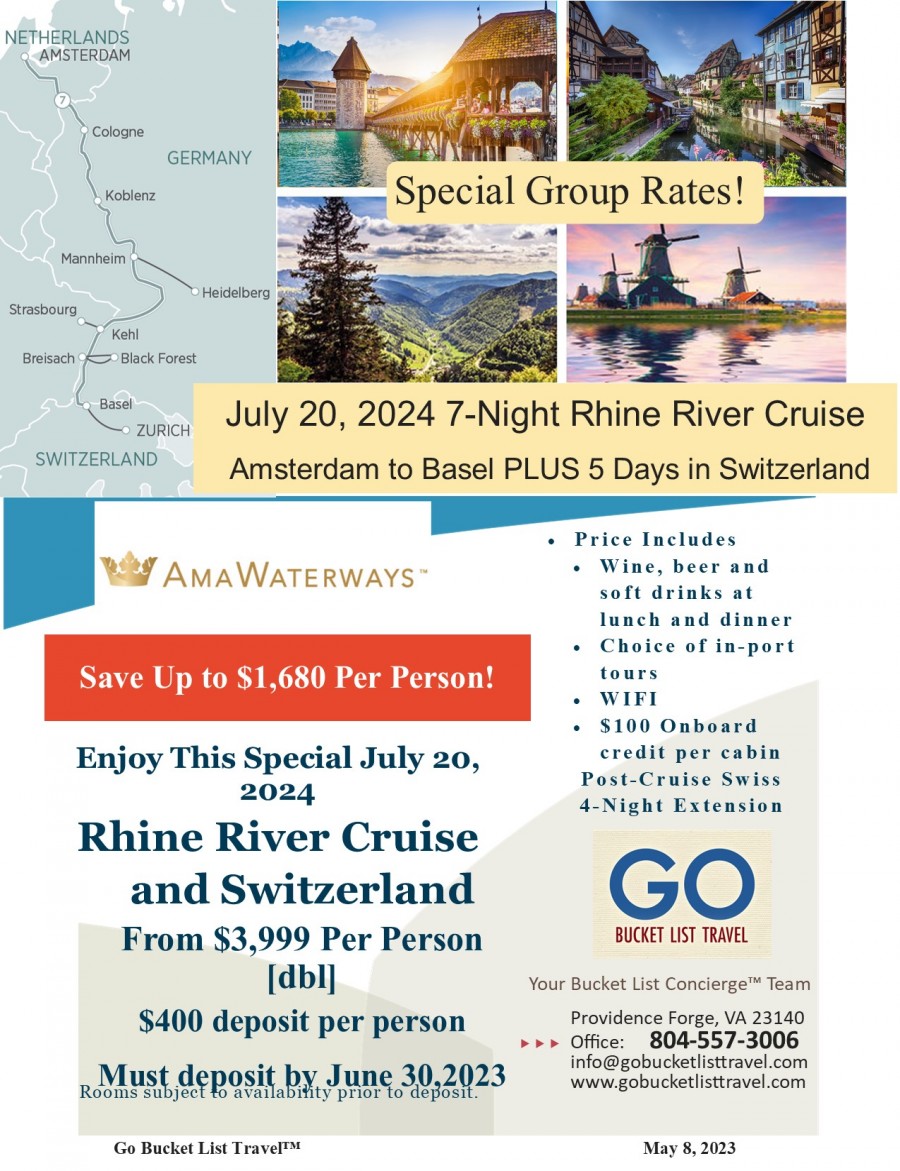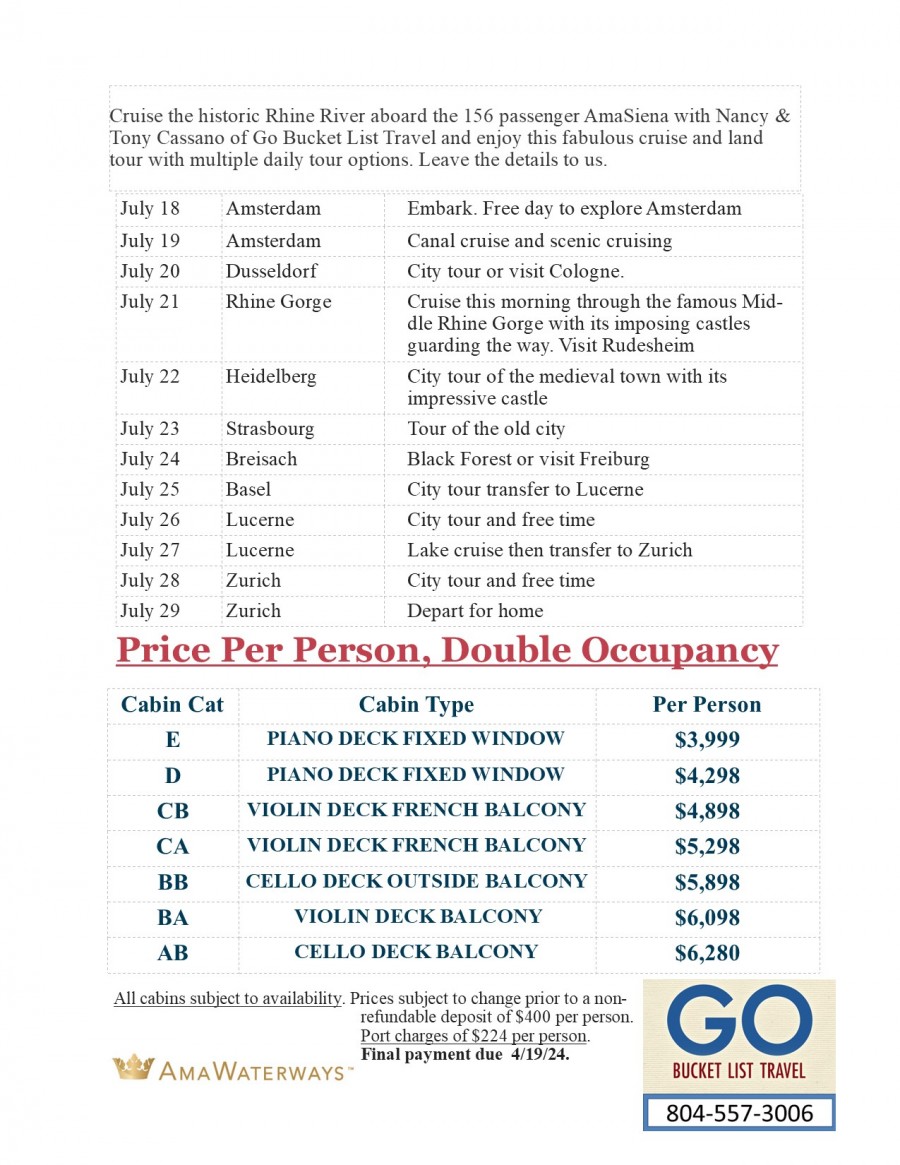 Whitefish, MT Glacier Symphony Southern Caribbean Luxury Cruise - February 2025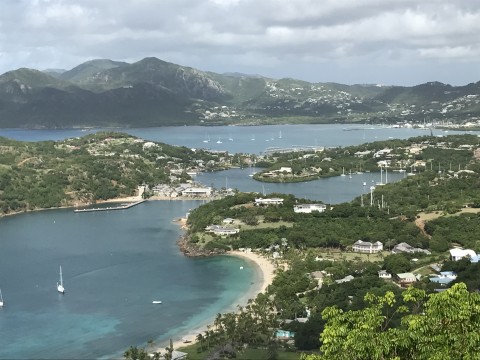 From $3,674 p/p with air from $599 and $25 deposit

Call us - 804-557-3006 - to take advantage of our fantastic group amenities on this amazing 11-day cruise through the heart of the Caribbean to benefit the Glacier Symphony of Whitefish, Montana !
Veranda staterooms start from $3,674 p/p.
Book by May 31, 2023 to receive reduced economy air from major USA gateways PLUS only a $25 deposit per person to hold your stateroom.
Your price includes a $125 Go Bucket List Travel discount.
For each stateroom booked, a generous $500 donation will be made by an anonymous donor to the Symphony!
We invite you to cruise with your friends of the Glacier Symphony on the luxurious, all-veranda 930 passenger Viking Sea, departing San Juan on February 5, 2025 and returning to San Juan, February 15th.
Our current group prices include: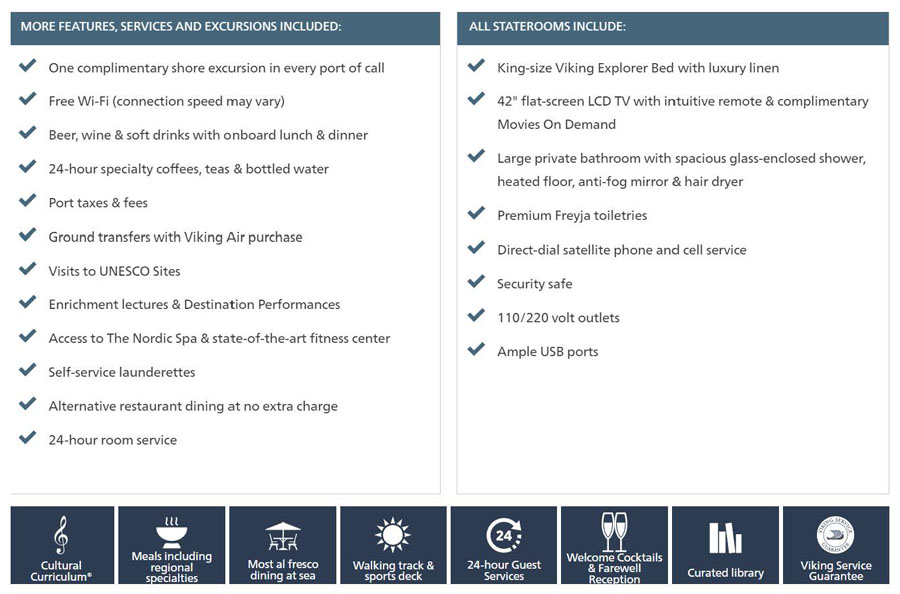 To all our friends in Montana, we hope you are all staying warm and safe this Montana winter.
If you need something to distract you from the cold, we invite you to look into this high-end Caribbean cruise which sets sail February 5th-15th, 2025.
How does this relate to the Glacier Symphony? Well, for every cabin booked, a generous anonymous supporter of the symphony will provide $500 to Glacier Symphony!
Viking Ocean Cruises is the #1 rated small ship cruise line in the world. Their small ships are renowned for their beauty, intimate surroundings, magnificent service and superb dining. Their itineraries span the globe and this specific cruise encompasses 11 days, going to some of the very best ports of call in the West Indies.
Viking caters to adults only and offers a sophisticated experience both on and off their ships. All staterooms have verandas and the trip is "all-inclusive," which means virtually everything on board is included in your price.
Please book by May 31, 2023 and take advantage of this special offer:
A $125 discount on the trip cost per person
Special air rates
Only a $25 deposit per person to hold your stateroom
Thank you for considering this special offer!
To redeem this offer and ensure your booking gives back to the symphony, contact Carrie McCrory of Go Bucket List Travel at carrie@gobucketlisttravel.com or call her direct at 804-301-9485
ABOUT GLACIER SYMPHONY Founded in 1982, Glacier Symphony Orchestra and Chorale strives to provide a diverse range of excellent musical experiences in Northwest Montana that inspire, challenge, and educate our musicians, audiences, and students. McClaren Hall is the new dedicated performance home of Flathead Valley's symphony. Glacier Symphony Orchestra and Chorale's office is located at 69 North Main Street in Kalispell. Wish to speak with the box office? Please call (406) 407-7000. Please visit our website at glaciersymphony.org
CLICK HERE To take a 360 degree tour of the Viking Sea
ABOUT GO BUCKET LIST TRAVEL. Go Bucket List Travel is the 2022 winner of the "Best of Richmond" competition for the best travel agency in central Virginia. We are a woman-owned, full-service travel agency with clients, "Bucketeers," across the nation with many from the Whitefish / Kalispell, MT area. We specialize in international luxury travel by river, ocean and expedition cruises and tours and design custom vacation experiences for singles, couples and groups.
We are affiliated with the exclusive Affluent Traveler Collection and accredited by • International Airlines Travel Agent Network • Cruise Line International Association • The American Society of Travel Advisors
We are also certified by the Virginia State Corporation Commission to sell travel insurance.
Please reach us at our offices: 804-557-3006 and 804-301-9485.
NEW! Costa Rica Family Adventure December 2024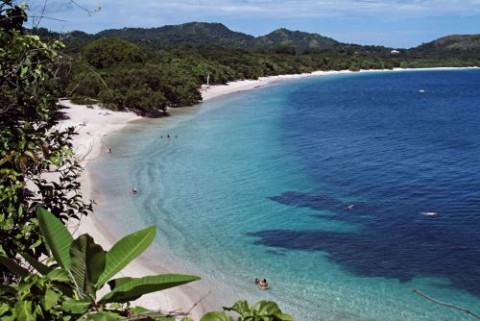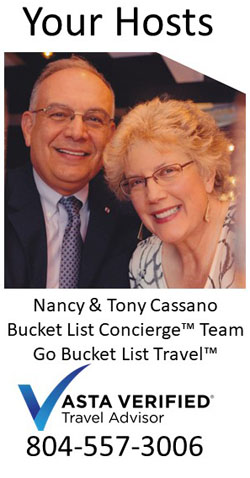 We have something special planned for the end of 2024, a week in Costa Rica with a tour designed for families and kids at heart.
December 27, 2024 to January 3, 2025
Costa Rica is the perfect destination for a bucket list vacation, where even the butterflies like the electric-blue morpho make visitors gape in awe.
We have partnered with our friends at Tauck Bridges Family Travel for this five-star vacation. All meals are included and the accommodations and daily activities are exceptional.
Please call us at 804-557-3006.
Our travel dates are exclusive to Go Bucket List Travel. Space is limited. Children are welcome but must be 8 and above. Please do not delay calling us at 804-557-3006.
CLICK HERE for a brochure with the daily itinerary and prices.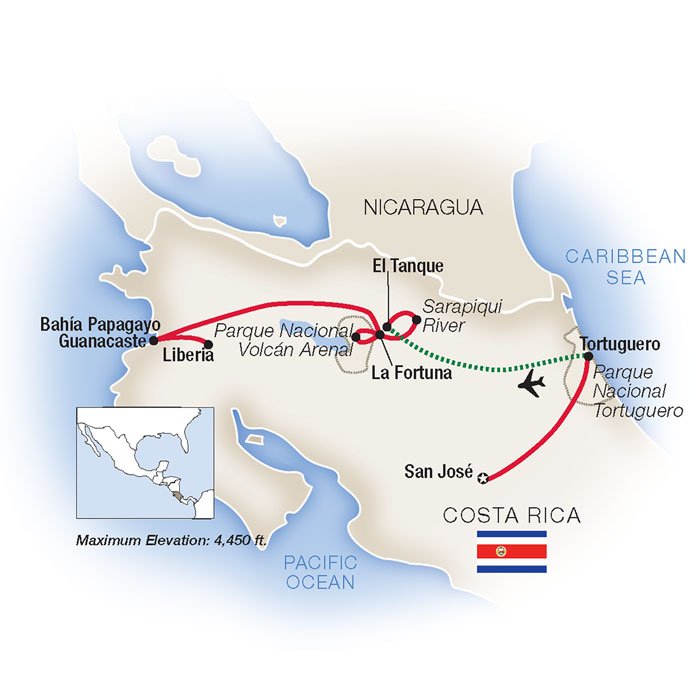 Cruise VIP Program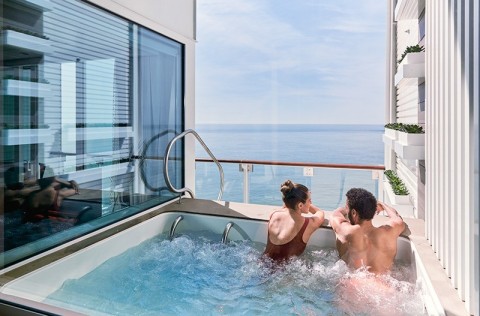 When you book a cruise through Go Bucket List Travel you will receive these added benefits, combinable with current promotions:
AmaWaterways. $150 onboard credit per person on 44 select 2023 Europe and Vietnam river cruises, including 8 wine cruises.
American Queen Voyages. $50 per person onboard credit.
CelebrityCruises. Special group prices, including refundable deposits, WIFI, Drinks and tips and $50 shipboard credit per stateroom on 183 2023 cruises, 316 2024 cruises and 84 2025 cruises. Special prices are capacity controlled.
Cunard. $25-$75 shipboard credit for Inside and Outside Staterooms. $50 - $150 SBC for Balcony and Grill staterooms per person per stateroom.
NCL. Up to $300 shipboard credit per stateroom based on a combination of stateroom type and voyage length
Oceania. Free pre-paid gratuities on 28 2023, 27 2024 and 12 2025 voyages
Paul Gauguin. $100 onboard credit per person on 2023 and 2024 sailings.
Princess. $25 to $80 per stateroom shipboard credit depending on voyage length.
Regent Seven Seas Cruises. $400 shipboard credit per suite on select sailings
Royal Caribbean. $50 onboard credit for most sailings.
Seabourn. $200 to $400 per suite onboard credit based on voyage
SilverSea. $250 shipboard credit per person on most cruise sailings
Uniworld. $100 per person shipboard credit.
Windstar. $200 shipboard credit on most sailings.
Call: 804-557-3006 for reservations
Bucketeer Hosted Anniversary Caribbean Cruise February 2025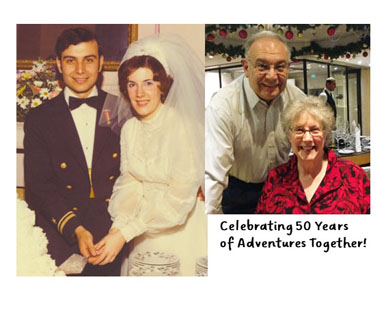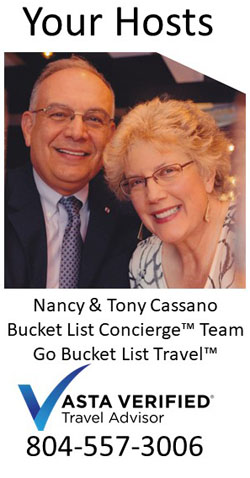 We invite you to join us for a party at sea on a 10-night
Southern Caribbean cruise as Tony and Nancy Cassano of Go Bucket List Travel celebrate their 50th Wedding Anniversary!
February 14 – 24, 2025. Roundtrip Fort Lauderdale.
Let's leave the winter cold behind and head to the sun!
Party with us on the impressive Celebrity Beyond, roundtrip Fort Lauderdale, on February 14, 2025 for this classic Caribbean cruise to St Maarten, St Lucia, Grenada, Barbados and Antigua.
Make it a double party and continue with us on the Beyond's February 24 cruise to the Panama Canal and the ABC's. You'll save another $100 off your staterooms on each cruise.
We have early access to group rates and 16 excellent Concierge and Infinite Veranda Class staterooms.
Please call us today at 804-557-3006 to learn more and to hold your spot.
A $450 per person deposit will hold your choice of stateroom.
Fares… per person, double occupancy, including all port charges and fees
Concierge C2 Class: $2665.16
Infinite Veranda E1 Class: $2245.16
Infinite Veranda E2 Class: $2225.16
Infinite Veranda E3 Class: $2205.16
Singles: please call us for your fantastic rates
Your price includes:
Free Classic Drink Passage
Free Gratuities
Free search/email internet
Special $200 Shipboard Credit Bucket Benefit per stateroom
Benefit per stateroom
Deposit by January 20, 2023 and you'll receive an additional $400 shipboard credit per stateroom!
Concierge service includes on call assistance to arrange special dinner reservations, excursions and other activities plus early boarding
Itinerary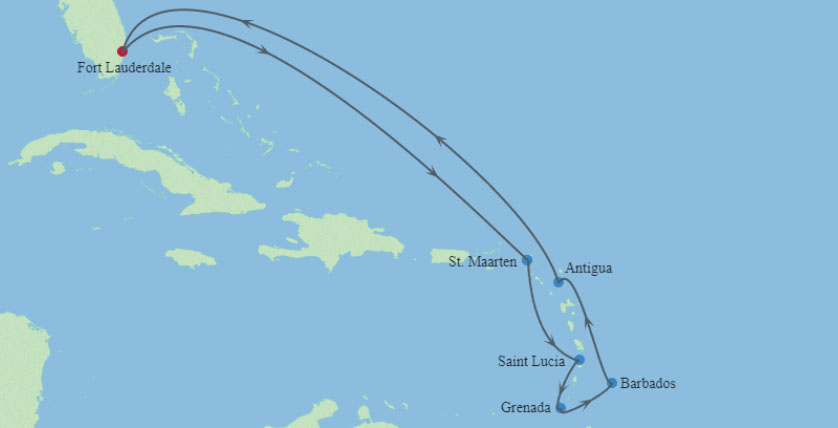 Friday, 14 February, 2025. Fort Lauderdale. Depart 4pm
Saturday, 15 February. Day of Cruising
Sunday, 16 February. Day of Cruising
Monday, 17 February. Philipsburg, St Maarten. 7am to 5pm
Tuesday, 18 February. Castries, St. Lucia. 9am to 6pm
Wednesday, 19 February. St George's Grenada. 7am to 6pm
Thursday, 20 February. Bridgetown, Barbados. 8am to 4pm
Friday, 21 February, St. John's Antigua. 9:30am to 5pm
Saturday, 22 February. Day of Cruising
Sunday, 23 February. Day of Cruising
Monday, 24 February. Arrive Fort Lauderdale, 7am
Bucketeer Hosted Panama Canal Cruise - February 2025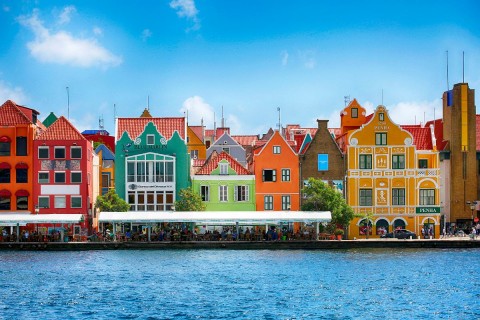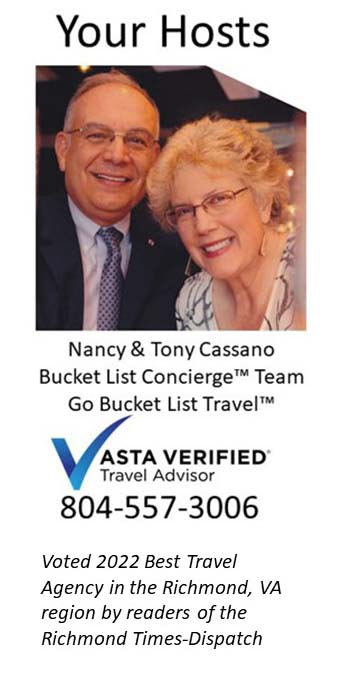 Have you ever experienced the Panama Canal? Celebrity Cruises just announced its 2024/2025 schedule. The new Celebrity Beyond will sail to the Panama Canal in February 2025 and we have reserved staterooms on this fabulously new ship for this voyage.
Let's leave the winter cold behind and head to the sun!
Sail with us on the impressive Celebrity Beyond,roundtrip Fort Lauderdale, on February 24, 2025. We will have a day in Cartagena, Columbia before venturing into the Panama Canal. Back in the Caribbean Aruba, Curacao and Bonaire await us for sun-filled days of fun and relaxation. This 11-night voyage will certainly sell-out, but we have early access to group rates and 16 excellent Concierge and Infinite Veranda Class staterooms.
Please call us today at 804-557-3006 to learn more and to hold your spot.
A $450 per person deposit will hold your choice of stateroom.
Fares… per person, double occupancy, including all port charges and fees
Concierge C2 Class: $3,241.46

Infinite Veranda E1 Class: $2751.46

Infinite Veranda E2 Class: $2701.46

Infinite Veranda E3 Class: $2661.46
Your price includes:
Free Classic Drink Passage

Free Gratuities

Free search/email internet

Special $200 Shipboard Credit Bucket Benefit per stateroom

Deposit by January 20, 2023 and you'll receive an additional $200 shipboard credit per person!
Itinerary

Monday, 24 February, 2025
. Fort Lauderdale. Depart 4pm
Tuesday, 25 February.
Day of Cruising
Wednesday, 26 February
. Day of Cruising
Thursday, 27 February.
Cartagena, Colombia. 7am to 3pm
Friday, 28 February
. Cruising the Panama Canal. Visit Colon, Panama 5pm to 9pm
Saturday, 1 March
. Day of Cruising
Sunday, 2 March
. Oranjestad, Aruba. 9am to 9pm
Monday, 3 March
. Willemstad, Curacao. 8am to 8pm
Tuesday, 4 March
. Kralendijk, Bonaire. 7am to 4pm
Wednesday, 5 March
. Day of Cruising
Thursday, 6 March.
Day of Cruising
Friday, 7 March
. Arrive Fort Lauderdale, 7am
Bucketeer Hosted Vietnam & Thailand Cruise March 2024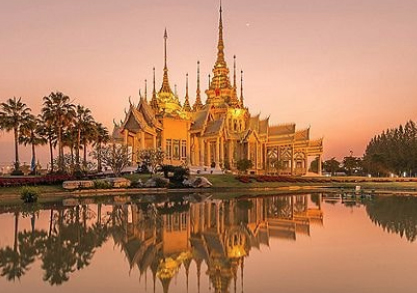 Concierge Stateroom: $2,377 p/p dbl. 2 Staterooms left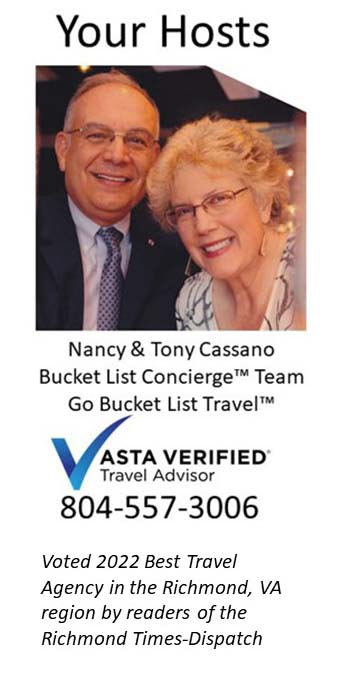 We are excited to announce our latest Bucketeer escorted adventure: a Bucket List 12-night Far East cruise to Vietnam and Thailand with overnight visits to Hanoi and Bangkok.
March 15 - 27, 2024
Four days in Vietnam and three days in Thailand - the "Land of Smiles."
Hong Kong to Singapore
Explore epic tropical beauty and historical and World Heritage Sites. Enjoy the amazing food scenes, get lost in the amazing markets and immerse in vibrant cultures.
Call us today at 804-557-3006.
We have only TWO Concierge Class staterooms left on the beautiful luxury Celebrity SOLSTICE at the unbelievable price of only $2,377 per person!
An additional military discount is also available for our veterans.
Call your friends!
This special price is cruise only, double occupancy.
Call us today!
A $450 per person deposit will hold your stateroom.
For those who book by April 30, 2023, we also have a special Bucket Benefit: $200 onboard credit per stateroom!
Taxes, fees and port charges of $137.46 per person extra.
Where we are going…..see below for a detailed itinerary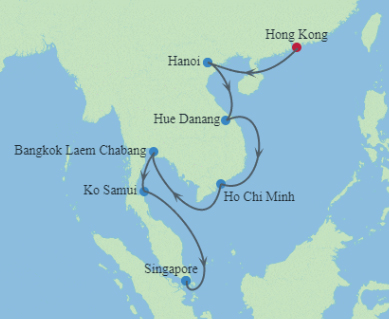 Your Bucketeer Cruise includes at no charge:
Dedicated Concierge Staff to arrange your cruise events and shore excursions·
Enhanced room service breakfast menu·
Free Classic Drink Package·
Free Gratuities·
Free Basic WIFI·
Special stateroom amenities
$200 Shipboard credit per stateroom for Bucketeers who book by April 30, 2023.
Tony and Nancy Cassano will handle all of your cruise, flight, pre/post cruise plans and details
An additional military discount is also available for our veterans.
We'll meet our ship, the Celebrity SOLSTICE, in Hong Kong on March 15, 2024 and arrive in dynamic Singapore on March 27th.
ITINERARY

March 15, 2024. HONG KONG, CHINA Depart 8PM. Neon signs galore, dim sum, and amazing temples are a few of the favorite experiences in Hong Kong. Take in as much as you can of this thrilling city with its endless shopping and towering skyscrapers. Your agenda for Hong Kong should include Victoria Peak, an Aberdeen Fishing Village, the Man Mo Temple and Sheung Wan Dried Food and Herbal Market. Be certain to have extra room in your suitcase for the bargains you are bound to discover.
March 16, 2024. DAY AT SEA

March 17, 2024. HANOI (HALONG BAY ), VIETNAM Arrive 7AM. Nothing can prepare you for the beauty of Ha Long Bay and its 2,000 limestone karsts, nor the experience of trekking around mountainous Sapa. Designated a UNESCO World Heritage Site in 1994, this port city with its sweeping lush landscapes and calm waters lies just 100 miles from the bustling streets of Hanoi. Catch a water taxi out to one of the many floating restaurants on the bay.
March 18, 2024. HANOI (HALONG BAY), VIETNAM Depart 2PM. There's so much to explore on a Vietnam cruise. Head to Hanoi, the country's captivating capital, where you'll find a blend of Parisian grace and Asian pace. Rise early to watch t'ai chi practiced at dawn near Hoan Kiem Lake, then take in the rich heritage and history with a visit to the Ho Chi Minh Mausoleum and the bustling back streets of the Old Quarter.

March 19, 2024. HUE/DANANG, VIETNAM. DOCKED 8AM to 8PM. The Nguyen Dynasty founded this former capital in the 17th century on the banks of the Perfume River. Today it sits as a massive open-air museum of temples, pagodas, palaces and tombs. Explore the Imperial Citadel, then take a river cruise for a view of the Tombs of the Emperors and Thien Mu Pagoda. Pago Pago is the main settlement on Tutuila, surrounded by peaks rising out of deep water harbor rimmed with palm-shaded beaches.
March 20, 2024. DAY AT SEA. We have reached the half-way point in our adventure. Time to recharge. Lounge by the pool, be spoiled at the spa, taste the delicacies, or explore the venues on-board, until we arrive at the next amazing destination.

March 21, 2024. HO CHI MINH, VIETNAM. Docked 7AM to 7PM. Located on the edge of the Mekong Delta, this dynamic metropolis also features the ageless beauty of an ancient culture. French colonial architecture mixes with modern Asian influences, providing a diverse backdrop for the many motorbikes, scooters, pagodas, and street markets. Stroll the wide boulevards of this city, formerly known as Saigon, and visit The History Museum, which houses artifacts from two thousand years of Vietnamese history.
March 22, 2024. DAY AT SEA

March 23, 2024. BANGKOK/LAEMCHABANG, THAILAND. Arrive 8AM. Bangkok is a city of contradictions: high-rise buildings and popular clubs abound, but so do golden temples and lively street fairs. A visit to the National Museum is great for history buffs, while shoppers will love the bargains in the Banglamphu district.
March 24, 2024. BANGKOK/LAEMCHABANG, THAILAND. Depart 5PM. Check out Klong Toey, in central Bangkok. It features a highly discounted market, offering fresh eel, dried fish, and the lively smells, sights, and sounds of this waterfront-pier area.

March 25, 2024. KO SAMUI, THAILAND. Tendered 7AM to 5PM. This small tropical paradise, lined with coconut palms and white sand beaches and encircled by turquoise water is a perfect place to escape and explore. Gaze up at the Big Buddha, cool off in the natural pool at the base of Na Muang Waterfall and view the astonishing natural rock formations of Hin Ta and Hin Yai.
March 26, 2024. DAY AT SEA

March 27, 2024. SINGAPORE. Arrive 7AM. At first glance, this diamond-shaped island just off the coast of Malaysia gleams with modernism and commercialism, making it seem more Western than Eastern. But as you continue to discover the city-state, you'll uncover the eclectic mix of cultures, religions, ancient treasures and British colonial impressions that give rise to a unique Singaporean identity.
Remember, we only have 2 concierge staterooms left at our special price. Please call us today to reserve your spot! 804-557-3006
Enjoy a relaxed luxury resort at sea. Reenergize. Go where you have never been before. Discover your world in the company of friends and neighbors. Be a Bucketeer!
Bucketeer Hosted 13-N Arctic Circle Cruise July 2024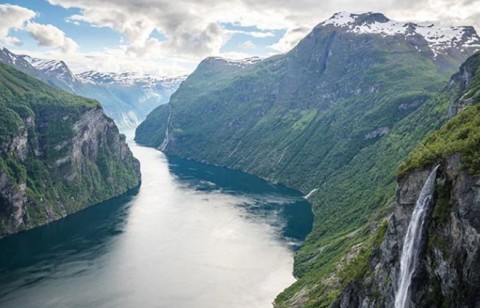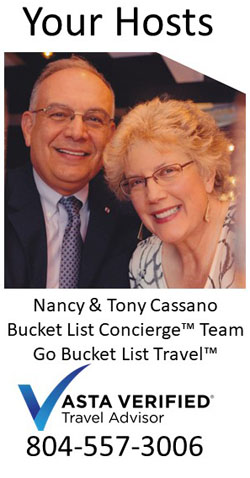 We have a very special deal for you….come with us in July 2024 as we head to beautiful Norway on Royal Caribbean's Jewel of the Seas. Our 13-day cruise, roundtrip Amsterdam, will include two days above the Arctic Circle.
We have just secured four more balcony staterooms for our group at a fantastic price.
Eight lucky Bucketeers will save $5,610.80 per person!
Go Bucket List Travel is holding four balcony staterooms at the remarkable price of only $2,058.80 per person, double occupancy. Our price includes $178.40 p/p port fees and taxes.
Please call us today at 804-557-3006 to hold your space - first come, first served
The regular published fare for these staterooms is $5,610.80 per person with taxes and fees.
Itinerary
July 5, 2024: Depart Amsterdam 4pm
July 6, 2024: Day at Sea
July 7, 2024: Geiranger, Norway 10am - 7pm
July 8, 2024: Molde, Norway 7am - 4pm
July 9, 2024: Day at Sea
July 10, 2024: Honningsvag, Norway 8am - 6pm
July 11, 2024: Tromso, Norway, 7am - 5pm
July 12, 2024: Cruising above the Arctic Circle
July 13, 2024: Flam, Norway 8am - 6pm
July 14, 2024: Alesund, Norway 1pm - 8pm
July 15, 2024: Olden, Norway 7am - 5pm
July 16, 2024: Bergen, Norway 8am - 6pm
July 17, 2024: Day at Sea
July 18, 2024: Arrive Amsterdam 6am
Ports of Call
Alesund
This small but lively city has a unique modern feel. A rebuilding effort following a major fire in 1904 gave the city its distinctive Art Nouveau — or "Jugendstil" — architectural style, defined its ornate details, asymmetrical facades and curving forms meant to resemble plants, animals and flowers. From the city park, walk up the 418 steps to the city's peak, Aksla — you'll be rewarded with a gorgeous panoramic view on the city, the islands and the rugged Sunnmorsalpane mountain range. Alesund is the home base for Norway's largest cod fishing fleet, so you won't have to go far to try some of the delicious and fresh seafood dishes during your Norway cruise.
Bergen
Set against the backdrop of seven mountains, Bergen's natural beauty and historical charm will stop you in your tracks. Stroll through the Bryggen neighborhood, with its medieval cobblestone alleyways and red, yellow and white painted houses. Take the cable car or a one-hour hike to the top of Mt. Floyen, and soak in dramatic views of the city and the surrounding fjords with Norway cruises. Encounter trolls — don't worry, they're only statues — in the Troll Forest. Later, learn why Bergen is a UNESCO City of Gastronomy with a meal at one of the city's forward-thinking restaurants, where chefs prepare cold-water seafood and local produce with modernist techniques.
Flam
Arriving in Flam feels like stepping into a fairy tale. Home to only 350 inhabitants, the village is situated at the inner end of the Aurlandsfjorden, the world's deepest fjord reaching a staggering 4,292 feet. From the harbor, take a brief stroll to the Flam Railway and take the 12-mile ride through the Myrdal Mountains and along the fjord. Cruise to Norway and head to Otternes Farm Village, made up of 27 different buildings that date back to the 17th century. Then, let the waterfall at Stalheimsfossen take your breath away, or drive to Stegastein viewpoint to take in the beauty of the fjord.
Geiranger
Welcome to the Jewel in the Crown of Norway's fjords. Geiranger Fjord was made a UNESCO World Heritage Site in 2005, but the area has been luring tourists since the turn of the 19th century. Take the Waterfall Walk to the heart of the cascades. Climb the Skywalk for Europe's highest fjord view with a clear 1640 foot drop below you. Explore Geiranger by bike or on foot, or hop in a raft or kayak for a view from the water. Once you've taken in your fill of mountain air, stroll the quaint village center. Indulge your sweet tooth at the local artisan chocolate shop, or sit back at a cafe with a coffee and a krumkake — a rolled cake with whipped cream in the center — and enjoy the view.
Honningsvag
Situated above the Arctic Circle, Honningsvag is surrounded by fjords and waterfalls, offering views across the sea to the Svalbard Islands and the North Pole. First settled more than 10 thousand years ago, today you'll find a modern central area around the harbor. Shops sell local crafts, including traditional Sami jewelry, as well as sleek Scandinavian home décor. Jump onboard a Norwegian fjords cruise and watch the indigenous Sami people herd reindeer through the area, and explore the history of the area at the Nordkappmuseet. Then, head to one of the restaurants in the harbor area for king crab risotto.
Molde
Known as the Town of Roses, Molde is situated in the midst of some of Norway's most beautiful fjords. Enthusiastic for the outdoors? Hit Molde's multitude of hiking and biking trails that offer views of the 222 mountain peaks visible from here. Take one of the world's most iconic drives: Molde's Atlantic Road, voted the Norwegian Construction of the Century, lets you actually drive over the ocean through islands, bays and moorlands.
Olden
Fresh air and icy beauty are the hallmarks of Olden, known as the Gateway to the Glaciers. Come here to explore the Jostedal Glacier – not only can you take in views of this natural wonder, you can also head to Jostedalsbreen National Park and hike the blue ice yourself. Thanks to Olden's location at the northern end of Oldedalen Valley, you'll find an unexpectedly dramatic landscape dotted with valleys, waterfalls and mountains. Explore the town by foot, boat or bike, and head into a gallery to discover why Olden is an emerging center for contemporary design. Check out the Old Olden Church for a unique look into local religious traditions.
Tromso
Tromso, Norway's gateway to the Arctic, is surrounded by deep blue fjords and snow-capped mountain peaks. Explore this lively city, linked to the mainland by a gracefully arched bridge. Visit the fascinating Polar Museum or the arctic aquarium Polaria. Be blown away by panoramic views on a cable car ride up to Storstein Mountain, or hike up one of the trails that run through the Lyngen Alps. Cruise to Tromso, Norway and stop into a cafe and refuel with carrot and cardamom marmalade on toast.
From the stunning scenery to the fun experiences, this cruise vacation is sure to delight! We'll be happy to create for you a perfect European vacation if you wish to extend your holiday.
Call us today at 804-557-3006 or email us at info@gobucketlisttravel.com to grab your space or for information on similar Norway cruises.
​
Bucketeer Hosted Dalmatian Coast Cruise September 2024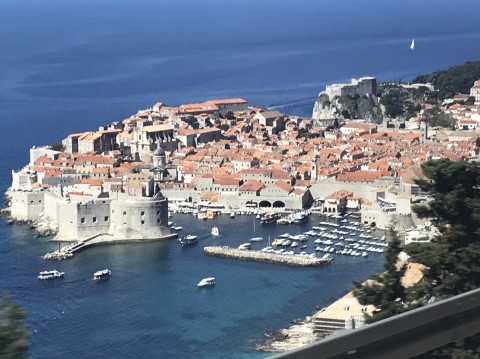 September is a beautiful month to sail the Mediterranean. Come join this Bucketeer cruise, hosted by Nancy and Tony Cassano of Go Bucket List Travel.
We are happy to offer you special rates on this outstanding 10-night cruise, roundtrip Rome, on the new Celebrity BEYOND to the lovely Dalmatian Coast with stops in Croatia, Montenegro, Greece and Italy.
Please call us at 804-557-3006 if you would like to come along and join in the fun.
The BEYOND has been wowing the critics for its luxury design and appeal, especially with its generously sized and appointed staterooms. We sailed on her in November and know you will be impressed.
Itinerary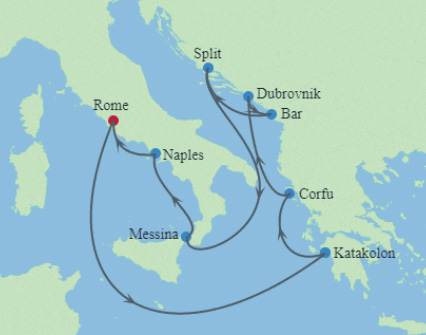 Prices
Concierge Class C1 [amidship]: $3,820.52 per person, double occupancy
Concierge Class C2: $3,773.52 per person, double occupancy
Your price includes:
Early Boarding
Special Air Rates
Dedicated Concierge Staff to arrange your cruise events and shore excursions·
Enhanced room service breakfast menu·
Free Classic Drink Package·
Free Gratuities·
Free Basic WIFI·
Special stateroom amenities
Itinerary Details
20 September. Depart from ROME, Italy at 5pm
21 September. Enjoy a day at sea
22 September. Olympia [Katakolon, Greece]. Docked 8am to 7pm. This Grecian port city is the gateway to one of the most important archeological sites in the world, the ruins of ancient Olympia, the home of the original Olympic Games. Olympia has preserved both athletic and mythological monuments, many dating back to 776 BC. Most intriguing is the stadium, which is still standing, and the gymnasium. The museum also offers a peek at fabulous Greek sculptures.
23 September. Corfu, Greece. Docked 8am to 6pm. According to myth, Poseidon honeymooned on this picturesque Greek island—and it's easy to see why. Its breathtaking natural landscape and long history as an artistic and cultural hub make Corfu one of the most cosmopolitan and captivating of the Greek Isles. Wander through the cobblestoned streets of Old Town, a UNESCO World Heritage Site, or soak up some sun on one of the island's many beaches.
24 September. Dubrovnik, Croatia. Docked 8am to 8pm. Established 1,300 years ago on the far southern tip of the Dalmatian Coast, this city once rivaled Venice in terms of its importance. Take a walking tour to the Dominican Monastery and marvel at the finest collection of Renaissance paintings, including a painting by Titian. Prepare to be riveted when first laying eyes on the old walled city on your cruise to Dubrovnik. This land has had many invaders including the Greeks, Romans, Slavs, Romans, Hungarians, and French, to name a few, and it has resulted in a fiercely independent citizenry with dynamic cultural influences. The views of the Adriatic from its rooftops are truly awe-inspiring.
25 September. Bar, Montenegro. Docked am to 6pm. This sunny coastal town in southern Montenegro is not only the principal and largest seaport in the country but also the sunniest one—with 270 days of sunshine per year. Set against 27 miles of Adriatic coast, with nearly 6 miles of beach coastline, you'll discover more than 20 different, breathtaking beaches where you can soak up the warm Mediterranean sun. For a unique experience, you can seek out the Stara Maslina, one of the world's oldest olive trees at over 2,000 years old, and get a taste of the area to take home by picking up some fresh local olive oil on your way out.
26 September. Split, Croatia. Tendered 8am to 6pm. Lined with palm trees, this Adriatic seaside town is also a cultural mecca. Within the walls of the Roman Emperor Diocletian's Palace, facing the harbor since 4AD, you'll discover historical buildings, numerous museums, the National Theatre and a collection of old churches. Culture, beauty, natural wonder – your Split cruise has it all. The mixture of old and new is very pronounced here. Everywhere there are signs and evidence left behind from the city's previous conquerors namely the Romans and Austro-Hungarians and there is no better place to view them than in Split's Old City. The Old City is so otherworldly that it's been dedicated a World Heritage Site by UNESCO.
27 September. Enjoy your day at sea
28 September. Messina, Sicily. Docked 8am to 6pm. Located in northeastern Sicily on the slopes of the Peloritani Mountains, Messina is an ancient place with a fascinating history. Walk by the ruins of the Santa Maria Alemanna Church, built in 1220 A.D. You'll also want to see the Duomo, a Romanesque and Norman cathedral that includes a display of artifacts in its treasury.
29 September. Naples, Italy. Docked 7am to 6pm. Framed by Mount Vesuvius along a dramatic skyline, the 2,800 year-old port city of Naples is chock full of historical sites, churches, and museums that make it a fascinating place for you to explore. For all of Rome's notoriety and reputation, Naples, with its historic city center deemed a UNESCO World Heritage Site, has just as many important archeological sites and landmarks. And in the region where pizza was first invented, you know the food is going to be incredible. Whether you're looking for a thin, wood-fired Margherita pie, spaghetti alle vongole or a zeppole dusted with confectioner's sugar, Naples and her bountiful edible treasures is sure to please.
30 September. Rome, Italy. Arrive 6am
Bucketeer Hosted Israel, Egypt and Turkey Cruise October 2024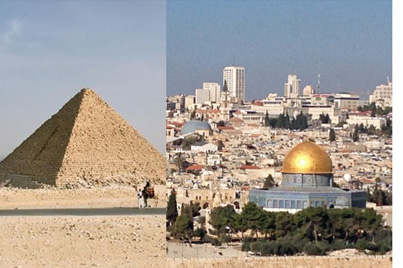 We are thrilled to announce our return to Israel and Egypt in 2024.
Sail with Tony and Nancy Cassano of Go Bucket List Travel onboard the beautiful Celebrity Silhouette, roundtrip Athens, Greece, departing October 1, 2024.
We will have three days in Israel, two in Egypt and a special port visit at Ephesus, Turkey. This 10-night voyage of discovery will certainly sell-out, but we have early access to group rates and 16 excellent Concierge Class staterooms with our favorite extra-large balconies.
Please call us today at 804-557-3006 to learn more and to hold your spot.
$3,489.99 per person, double occupancy, includes all fees and taxes.
A deposit of $450 per person holds your stateroom.
Your price includes:
Free Classic Drink Passage

Free Gratuities

Free search/email internet

Concierge service to arrange special dinner reservations, excursions, and other activities.

Early boarding

$200 per stateroom extra shipboard credit Special Bucket Benefit

An additional $400 per stateroom shipboard credit when you deposit by 21 January 2023
We will arrange special excursions so you can experience the impact of the Holy Lands as we first did some years ago. Imagine: being in the cave of the Nativity in Bethlehem, looking back at Jerusalem from the Mount of Olives, praying in the Church of the Holy Sepulcher at the scene of Christ's crucifixion, viewing the Sea of Galilee from the Mount of the Beatitudes, visiting the Jordan River, sitting in the ancient synagogue at Capernaum, and much more.
At Alexandria, Egypt, head off to see the mighty Pyramids of Giza and spend time at the new Great Egyptian Museum, schedule to open in 2023.
When we are at Ephesus, Turkey, be sure to stand in the theatre where St Paul preached, or head into the hills for the house of Mary.
Opportunities will abound to extend your vacation at Athens and into Greece and the rest of Europe.
Our Itinerary:
Sunday, 1 October 2024
: Depart Athens, Greece, 5pm.
Monday, 2 October
: Enjoy a day at sea. Get ready for your adventure to come.
Tuesday, 3 October
: Haifa, Israel, 6am – 7pm. The largest city in northern Israel has an incredible history. This spectacular city rises dramatically from the Mediterranean on terraced hillsides, which culminate with Mount Carmel. From that viewpoint on a cruise to Haifa, all the world seems to lie at your feet. On a clear day you can see north all the way to the Lebanese border, as well as the snowcapped Mount Hermon to the east. We'll travel to Galilee—Israel's luscious region and the scene of Christ's youth. Here Jesus was baptized and preached, stand at the banks of the River Jordan, visit where Christ delivered the Sermon on the Mount, get close to the grotto in Nazareth where the Archangel Gabriel appeared to the Virgin Mary — plus take in panoramic views of the Sea of Galilee.
Wednesday, 4 October
: Ashdod, Israel. Arrive 7am. This is our gateway to Jerusalem and Tel Aviv. Sacred to three of the world's major religions, Jerusalem is one of the world's oldest cities. With a history dating back to 4000 BC, the ravages of time and generational conflicts have not crumbled its fascinating architecture. Pray at the Western Wall, which is all that's left of the fabled Second Temple, watch the sunlight bounce off the golden-roofed Dome of the Rock or the shimmering silver al-Aqsa Mosque. You'll be swept up by the magnitude and beauty of this treasured city. Wander the Old City and you're sure to find a kaleidoscope of local artisan and merchant shops for handcrafted jewelry and textiles. Then, head over to the modern part of the city on your cruise to Jerusalem and sample delicious Middle Eastern classics like falafel, hummus, and shawarma.
Thursday, 5 October
: Ashdod, Israel. Depart 10pm. Today we will continue our exploration of Jerusalem with a visit to the Church of the Holy Sepulcher, built over the scene of Christ's crucifixion and burial. We also hope to continue into the Palestinian Territories to Bethlehem for a visit to the Church of the Nativity.
Friday, 6 October:
Day at Sea. While at sea, take the time to recharge for Egypt. Lounge by the pool, be spoiled at the spa, enjoy a meal at a specialty restaurant or explore the venues on-board, until we arrive tomorrow at Alexandria, Egypt.
Saturday, 7 October:
Alexandria, Egypt. Arrive 2pm. On a cruise to Egypt, explore the incredible history of Alexandria and its surroundings. Only a few hours away from bustling Cairo, this coastal city has a relaxed Mediterranean feel. Founded by Alexander the Great, its famed former residents include Cleopatra, Caesar, and Mark Antony, who lived storied lives here. Stroll the Corniche, Alexandria's 10-mile long waterfront promenade, taking in the sea air, the local sights, street vendors, and music. Explore the National Museum to learn about Alexandria's illustrious history and see amazing artifacts. Visit ancient temples, an amphitheater, and catacombs. The charming seaside walkway and fascinating architecture make Alexandria an exotic, romantic destination.
Sunday, 8 October:

Alexandria, Egypt. Depart 10pm. This is our perfect day to travel south to

Cairo and the Giza Plateau, home to the Great Pyramids, the Sphinx and the new

Great Egyptian Museum housing artifacts from 5,000 years of Egyptian history,

including the wealth of King Tut's tomb.
Monday, 9 October: Day at Sea. This is a good day to rest your feet and enjoy all the pleasures the Celebrity Silhouette has to offer.
Tuesday, 10 October:
Ephesus [Kusadasi], Turkey. 7am – 4pm. Once the capital of the Roman province of Asia Minor, this coastal town is now an archeologist's dream. The UNESCO World Heritage ruins of Ephesus impress even those familiar with the world's other ancient cities. Though excavations have been underway for 150 years, only 20 percent of the city has been uncovered. This former Greek banking and trading center is rich with historic sites, including the Great Theater, the Temple of Hadrian, and the Temple of Artemis, one of the Seven Wonders of the Ancient World. Check out the Celsus Library built in 117 A.D.— made up of towering columns highlighted by the statue of the goddess of wisdom. History says that Saint Paul preached here to his growing flock and the Apostle John brought Mary here as well. East of Ephesus you'll find the House of the Virgin Mary, a Catholic shrine located on Mt. Koressos.
Wednesday, 11 October:
Athens, Greece. Arrive 4:30am. Head for home, or continue your European vacation.
Bucketeer Hosted Iceland to Boston Cruise August 2023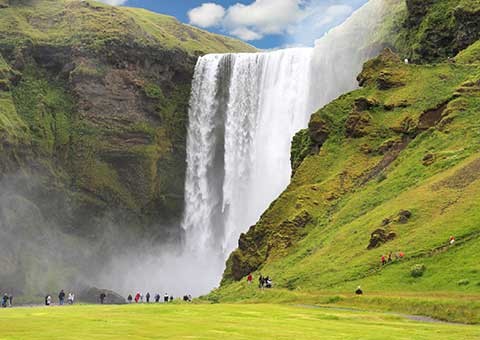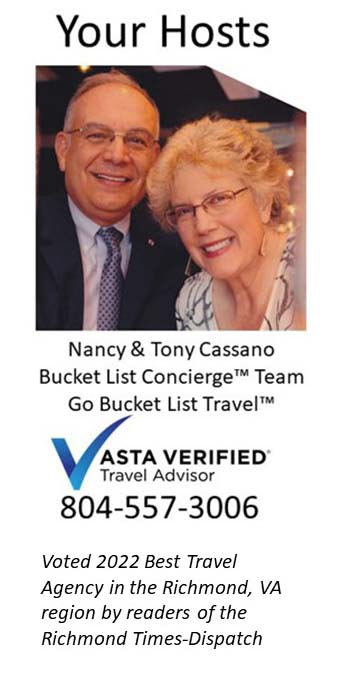 NEW! JUST ANNOUNCED....we have one stateroom now available on our hosted Bucketeers to Iceland, Greenland and Canada Cruise in August 2023.
Please call us today: 804-557-3006.
We have special pricing on the August 18, 2023 departure of the Celebrity Summit on its 2023 12 night voyage from Iceland to Boston with two stops in Iceland plus Canada and Greenland. You'll save over 60%!
This cruise is sold out with the exception of a few inside staterooms, but we have one oceanview stateroom left. Don't Delay. Call us!
In February 2019, Celebrity Summit took part in Celebrity's fleet-wide Revolution. Restaurants and lounges became more than just dining rooms and pass time areas. Staterooms became home away from home and guests' personal sanctuaries. Celebrity Summit stopped being just a ship and became a better way to experience the world.
Call us today at 804-557-3006 for this and other voyages or send us an email @ info@gobucketlisttravel.com.
Cruises are subject to availability at the time of booking.
Your 12 Night Adventure includes:
Accommodations on Board the Celebrity Summit
FREE Beverage Package
FREE WIFI Search and Email Package
FREE Gratuities
$200 per person shipboard credit
Optional 3N Iceland hotel and tour package, including the popular Golden Circle tour.
Discounted Group Insurance Available
Itinerary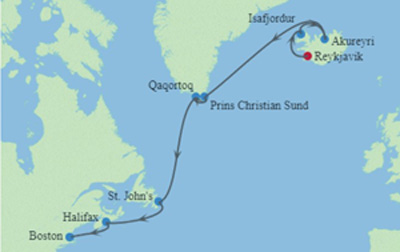 DATE PORT OF CALL ARRIVAL DEPARTURE
Friday, 18 August 2023. Reykjavik, Iceland. Depart 4pm. Iceland's capital and largest city is located on the country's southwest coast at the head of Faxafloi Bay. Settled in 877 A.D., Reykjavik has grown into an important seaport and center of government and education with theatres, museums and observatories. Interestingly, this modern city still chooses to use water from nearby hot springs to heat all of its buildings. And you'll find on your cruise to Reykjavik that the culinary scene is eclectic and awesome. The seafood is amazing just about anywhere throughout the city and traditional Nordic salt cod or fish stews are readily available. But there is no shortage of international culinary favorites like French and all sorts of new Nordic fusion-style options as well. Explore the city's artistic boutiques for authentic Icelandic souvenirs and trinkets, like music boxes, unique clothing, driftwood furniture and fish-skin handbags.
Saturday, 19 August. Isafjordur, Iceland 8am - 5pm. Isafjordur, the largest town in the Westfjords peninsula, is known for its breathtaking landscapes. Here guests can enjoy and wide variety of outdoor activities from biking, hiking, kayaking and horseback riding to whale watching. They can explore the history of the town that started as a trading post in the 16th century with growth triggered in the 19th century by salt fish production which is still the most important industry for the town.
Sunday, 20 August. Akuregri, Iceland 7am - 4pm. Akureyri, Iceland is the country's second-largest city and one of the country's most important ports and fishing centers. Affectionately known as the Capital of North Iceland, it has a cool café scene, a growing gourmet movement, and a bustling nightlife that proves this city is more than meets the eye. From fabulous summer festivals fueled by the Midnight Sun, like the Akureyri Summer Arts festival (late June-late August), to some of the best skiing this side of the arctic circle, Akureyri, Iceland is a laid-back Nordic city and a study in contrasts. Soar into the blue sky to discover Grimsey Island, home to only 92 residents and thousands of sea birds. The city's Botanical Gardens is famed for its collection of high-latitude plants and well worth a visit. Explore the ancient lava formations of Dimmuborgir and the geothermal landscape of bubbling mud and hissing fumaroles at Namafjall Mountain. The Great Fish Day of Dalvik, on the second Saturday in August, where revelers feast for free on the North Atlantic's bounty is a paradise for seafood lovers. The city is best known as the gateway to Iceland's natural wonders – thundering waterfalls, gurgling lava fields, snow-capped mountains, sweeping fjords, and robust folk culture. Whatever you choose, it's sure to be the adventure of a lifetime.
Monday, 21 August. At Sea
Tuesday, 22 August. Cruise Prins Christian Sund, Greenland. Named for King Christian VIII of Denmark, this dramatic fjord separates the southernmost islands from the rest of South Greenland, a land of jagged mountains and green pastures where sheep farms border icy fjords and Norse history intersects with modern communities. Prince Christian Sound presents beautiful scenery for cruising, with mountains reaching 4,000 feet, glaciers inching toward the sea, and tidal currents that limit the formation of ice.
Wednesday, 23 August. Qaqortoq, Greenland. 7am - 5 pm. The largest town in South Greenland, which can still be covered on foot, offers visitors art, culture, Norse history, boat tours, hot springs, kayaking, and hiking. It's like an arctic riviera, but with floating icebergs and frolicking whales instead of sandy beaches and palm trees. Next to the central square, with historic buildings and pleasant cafés, Qaqortoq Museum displays a mix of modern art and classic culture. Trek up the hills for a stunning panorama of the area, complete with migrating sea ice. Take an excursion out to the local hot springs. Ahhh, this is the life.
Thursday, 24 August. At Sea
Friday, 25 August. At Sea
Saturday. 26 August. St John's Newfoundland, Canada. 7am - 6pm. St. John's, the capital of Newfoundland, is the province's largest city. Settled by the British in the 1600s , Saint Joh's is one of the oldest cities in the "New World." Known for its colorful row houses, it has the perfect balance of luxurious city and old town charm. Guests can wander the streets learning the history of this fishing town or, for the more adventurous, hike up to Signal Hill and enjoy the views.
Sunday, 27 August. At Sea
Monday, 28 August. Halifax, Nova Scotia, Canada. 7am - 6pm. Located on the shores of the world's second-largest natural harbor, the "City of Trees" adds to the pastoral beauty of Canada's maritime region. An extensive network of walking trails extends from the waterfront out to a series of beautiful parks and vibrant gardens, inviting exploration.
Tuesday, 29 August. At Sea
Wednesday. 30 August. Boston, MA . Arrive 7am
Bucketeer Hosted Luxury Egypt Adventure November 2023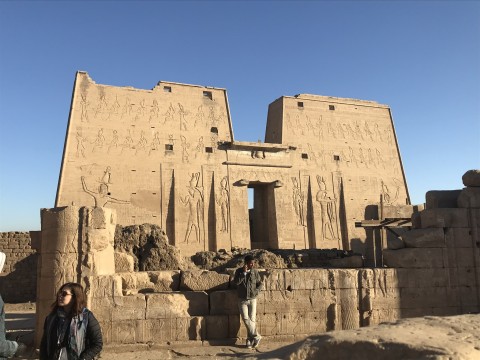 Egypt 11 Night Luxury Cruise Tour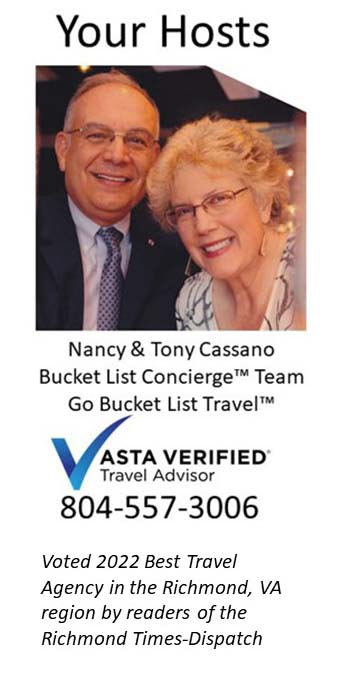 Come with us and our Bucketeers in November 2023 as we return to fascinating Egypt for an amazing seven-night luxury Nile cruise on the purpose built stunning river boat AmaDahlia, plus four-nights in Cairo at the prestigious Four Seasons Cairo Hotel at the First Residence, the #1 hotel in the city offering panoramic Nile views and brilliant international cuisine.
We are thrilled to take up to fifteen lucky couples with us on this Bucketeer Adventure℠ to revisit Egypt's priceless treasures and famed monuments and experience modern Egyptian hospitality. Join us!
November 10 - 21, 2023
Please call us at 804-557-3006 to hold your space.
Our Egypt Bucketeer Adventure℠ includes:
Three nights pre-cruise at the five-star Four Seasons Hotel Cairo at the First Residence
Seven night Nile cruise on the new 72 passenger AmaDahlia, roundtrip Luxor
One night back in Cairo at the Four Seasons Hotel Cairo at the First Residence
A certified Egyptologist for every 20-25 guests.
Complimentary Airport Transfers
All entrance fees
Exclusive activities
Small group touring
Experiences Awaiting You
Prepare yourself to be treated to a connoisseur's discovery of this ancient civilization as only our friends at AmaWaterways can provide – with an unparalleled 11-night Nile River cruise and land experience that includes exquisite cuisine, authentic experiences and the extraordinary service for which AmaWaterways is renowned.
We will sail aboard the luxurious, newly designed AmaDahlia and explore ancient wonders, such as the beguiling Temple of Luxor and the mystifying Valley of the Kings and Queens. Plus, come face-to-face with the last survivor of the Seven Wonders of the Ancient World, the Great Sphinx and the three Pyramids of Giza.
While in Cairo we will be pampered at the luxurious Four Seasons Hotel Cairo at the First Residence with daily breakfast, panoramic views of the Nile, roof-top pool, numerous outstanding restaurants, spa and more.
This unforgettable itinerary includes exclusive experiences, such as a private tour of the tomb of Queen Nefertari and a private lunch at the Abdeen Presidential Palace and a tour of the newly opened Grand Egyptian Museum with over 125,000 artifacts on display, including the complete collection of priceless items found in King Tut's tomb.
Let us show you the many mysteries and secrets that have shaped Egypt's past and continue to influence the future of this remarkable land.
Past AmaWaterways clients will receive special added discounts.
Active and retired military, please ask for our military discount.
Our Itinerary
November 10 - Cairo Hotel check-in
Arrive in Cairo, where you'll be met by a AmaWaterways representative who will help you with your luggage and the customs and immigration process. With your baggage and customs taken care of and a new stamp in your passport, you will now be driven to the five-star Four Seasons Cairo Hotel at the First Residence. Relax by the rooftop pool and enjoy the view as your fellow Bucketeers arrive.
November 11 - Cairo - Grand Egyptian Museum and King Tut's treasures plus lunch at the famous Naguib Mahfouz Restaurant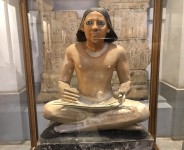 A full day of captivating attractions await, beginning with the new, exquisite Grand Egyptian Museum, built with a budget of over $700M to display nearly 120,000 artifacts. Home to some of the greatest masterpieces ever crafted, its unique collection of Pharaonic art includes mummies and the priceless treasures of Tutankhamen, the Boy King. Afterwards, we'll venture to the bustling and colorful 14th-century Khan el-Khalili for a welcome lunch at the famous Naguib Mahfouz Restaurant, named after one of Egypt's most well-known authors. Afterward, tour El-Moez Street, one of Cairo's most remarkable historic places. Then, a visit to the Mosque of Muhammad – also known as the Alabaster Mosque – which majestically sits on the summit of the Citadel of Saladin's courtyard. From the arcaded courtyard, enjoy the breathtaking view across the city to the Pyramids of Giza. Inside the Mosque, marvel at an ornate interior and a splendid array of lamps suspended from the intricately decorated ceiling. (B, L)
November 12 - Cairo - Ancient Memphis sites, including the Zoser Pyramids; Pyramids of Giza, the Great Sphinx and the Solar Boat Museum, including lunch at the historic Mena House Hotel overlooking the Great Pyramid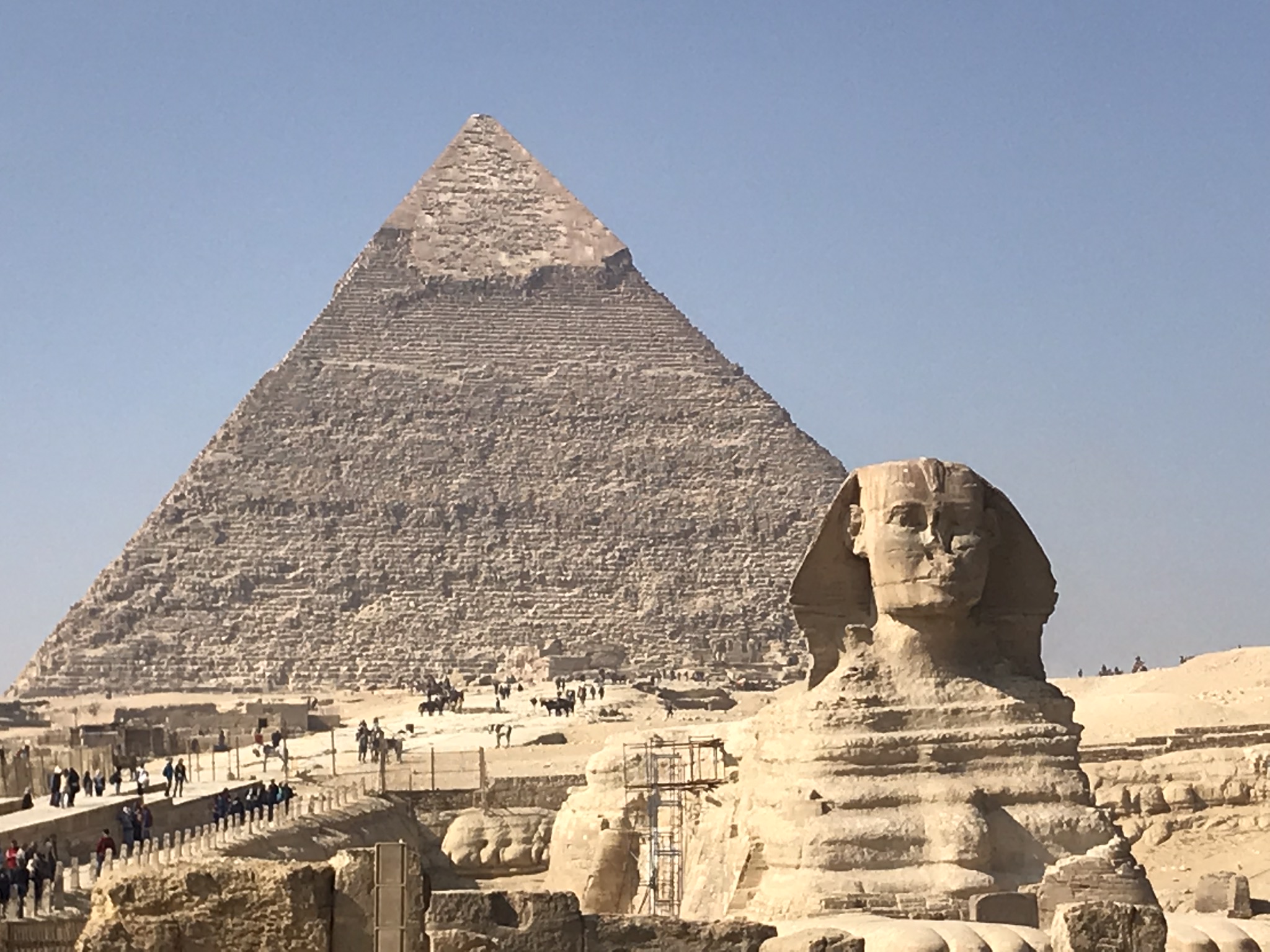 Discover the monuments at the UNESCO-designated ancient capital of Memphis. You'll visit the huge statue of Ramses II, the Alabaster Sphinx and the necropolis of Sakkara – site of the famous step pyramid of King Zoser, the oldest pyramid on earth. We'll then go to the Great Sphinx and the iconic Giza complex, which consists of three large pyramids built between 2589 BC and 2504 BC Another ancient wonder you'll encounter is the Khufu solar boat designed to carry the pharaoh across the sky with the Sun God, which is restored and preserved in the Giza Solar Boat Museum. Today's adventure concludes with a lovely lunch at the famous Mena House, a historic palatial hotel, based in the shadow of the great Pyramids of Giza. (B, L)
November 13 - Cairo - Flight to Luxor and embark on our floating luxury hotel - Luxor Temple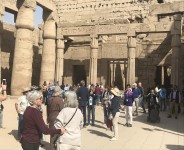 After checking out of the hotel, we take a morning flight south to Luxor, a UNESCO World Heritage Site and home to two astonishing temples—Karnak and Luxor. Luxor is also our gateway to many of Egypt's vast treasures that you'll discover throughout your Nile River Valley cruise, so it is here that you'll be welcomed aboard the AmaDahlia. During the late afternoon, you will visit the Temple of Luxor, constructed over hundreds of years by Amenhotep III, Ramses II, Tutankhamun and other pharaohs. After your visit, continue to experience Egyptian magic with a traditional folkloric-style belly dance on board the AmaDahlia. (B, L, D)
.
November 14 - Luxor - The Valley of the Kings and Queens, The Temple of Queen Hatshepsut at Deir el-Bahari, the Colossi Memnon and exclusive access to the Tomb of Queen Nefertari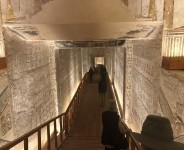 Today we visit the tombs of ancient Egypt in the Valley of the Kings— one of the most famous archeological sites in the world. The spectacular rock-cut tombs located on the west bank of Luxor include that of the enigmatic King Tutankhamun, whose mummified remains are still here on display. Afterwards, we go to Deir el-Bahri to see the Temple of Hatshepsut, one of Egypt's most successful pharaohs and its first female ruler. Next, visit the Valley of Queens, home to the mummified remains of more than 30 queens and princesses, including Nefertari's Tomb, where you'll enjoy exclusive access. Your day's adventure concludes with an up-close view of the Colossi of Memnon—two gigantic statues of Pharaoh Amenhotep III. Once back on board the AmaDahlia, cap the day off with a Captain's Welcome Cocktail. (B, L, D)
November 15 - Edfu - Temple of Horus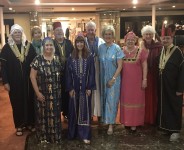 The city of Edfu is best known for one of Egypt's most remarkably preserved temples, dedicated to Horus, the falcon-headed god. Built in 230 BC, it is the second-largest temple in Egypt and a UNESCO World Heritage Site, with walls that display compelling details about the religion and language of the country's Greco-Roman period. After visiting Edfu, relax on board and take in the Nile River's timeless landscapes as the ship continues onward to Aswan, and then in the evening, celebrate your inner Egyptian at an onboard Galabeya party. Don traditional Egyptian attire, meet new friends, toast to adventures past and future, dance and bask in the glory of the Egyptian night. (B, L, D)
November 16 - Aswan - Free time or optional trip to Abu Simbel plus Felucca ride to Nubian Village of Hessa.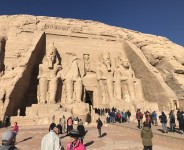 Enjoy free time in Aswan or go on an optional excursion to Abu Simbel. If you choose the optional excursion, you'll take an early morning flight to Lake Nasser to the more than 3,000-year-old Abu Simbel, a UNESCO World Heritage Site dedicated to Ramses II, one of the most active of pharaohs, along with the smaller temple dedicated to his chief wife Queen Nefertari. The front of the main temple has four gargantuan statues of Ramses II on his throne, each measuring nearly 70 feet high and discovered half buried in sand in 1813. During the afternoon, take a peaceful ride in a felucca, a traditional Egyptian sailboat, to the colorful Nubian Village of Hessa. Meet the warm and friendly Nubian people who will welcome you to their village. Enjoy lunch here before going back to the ship. Tonight, there is an optional outing to a sound and light show at Philae Temple. (B, L, D)
November 17 - Aswan - The Unfinished Obelisk, the High Dam and Philae Temple Temple of Sobek and Temple of Haroeri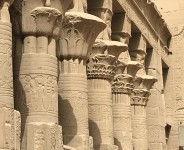 Today we visit the Aswan High Dam and then the Unfinished Obelisk, commissioned by Queen Hatshepsut. Next, explore the UNESCO-designated Philae Temple complex, with one of the most stunningly restored and preserved hieroglyphs in Egypt, built between 380 BC and 362 BC and dedicated to the goddess Isis, the wife of Osiris and mother of Horus. After our visit here we cruise to the Great Temple of Kom Ombo, where its soaring columns dramatically rise above the Nile River. Unique in Egypt, this temple is dedicated to two gods—the crocodile god, Sobek, sitting on the right; and the falcon-headed Haroeris, "The Good Doctor." Once back on board the AmaDahlia, enjoy an afternoon of scenic sailing to Esna, where you'll spend the night before sailing back to Luxor. (B, L, D)
November 18 - Luxor - Karnak Temple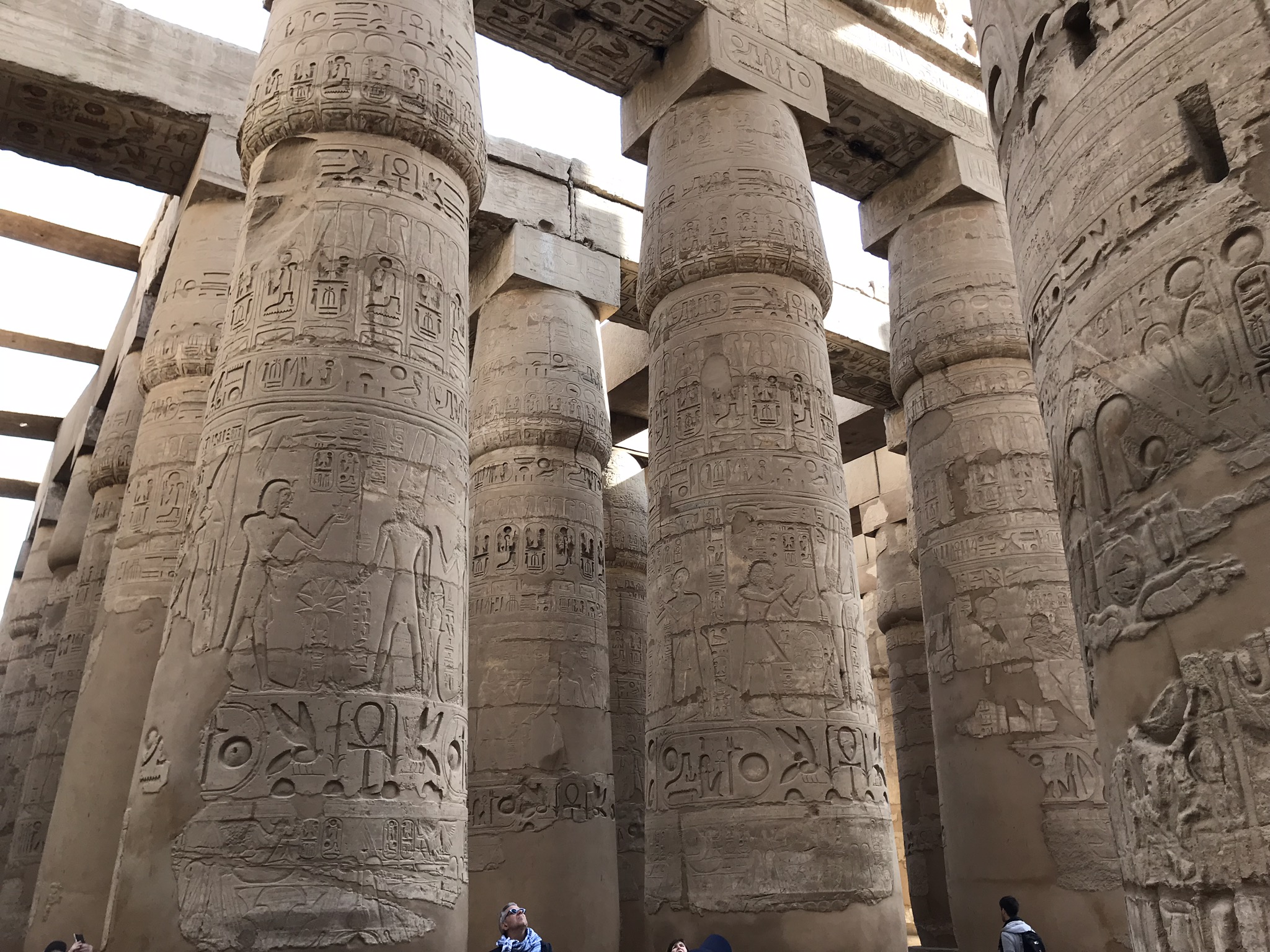 We will enjoy the morning cruising back to Luxor, where you'll explore the Temple of Karnak, the largest religious complex in Egypt and one of the largest in the world, covering about 200 acres in a vast network of columns, hieroglyphics, obelisks, sphinxes and colossi—even a lake. Built over the course of 1,300 years, it is overwhelming. 80,000 laborers took part in its creation during the 19th dynasty alone. Despite its rich history, the temple lay hidden until the 19th century. The effort to restore it continues still. The Hypostyle Hall is a great architectural marvel and filled with its roof blocks, supported by colossal 134 columns standing at 70 feet high, with 12 larger columns standing at 80 feet high lining the central aisle. It is still the largest room of any religious building in the world. (B, L, D)
November 19 - Luxor - The Great Temple of Abydos of Seti I and The Temple of Hathor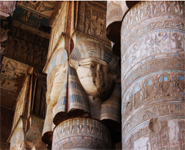 This morning we set sail to Qena to explore the Great Temple of Abydos of Seti I, one of the lesser-known pharaohs of the New Kingdom of ancient Egypt. Next, you'll go to Dendara to visit the best-preserved temple in Egypt, the Temple of Hathor – the Goddess of Love, to whom the powers of joy, feminine love and motherhood were attributed. The temple was built by Ptolemy and a group of Romans who worshipped her; so don't miss the back of the temple where there is a relief depicting Cleopatra with Caesarion, her son by Julius Caesar, the Roman Emperor who brought us the months of July and August. Following our visit here, we sail back to Luxor. (B, L, D)
.
November 20 - Luxor - Flight to Cairo Cairo Exclusive private tour of the Abdeen Presidential Palace with lunch at the palace Old Cairo, The Hanging Church and Ben Ezra Synagogue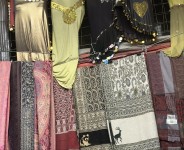 This morning after breakfast we disembark the ship in Luxor and fly back to Cairo where you will be taken to the Abdeen Presidential Palace, considered one of the most luxurious palaces in the world. The palace consists of multiple museums, including the Silver Museum; the Arms Museum; the Royal Family Museum; a Presidential Gifts Museum and a Historical Documents Museum, which is a relatively new addition. It is also one of the official residences and places of work for the President of Egypt. Afterwards, be treated to a very special lunch at the palace. Finally, you'll explore the old part of the city, which includes Coptic Cairo, where the Hanging Church and Ben Ezra Synagogue are located. (B, L)
November 21 - Cairo - Return flight home
Bid farewell to Cairo and prepare for your flight home. Your trip includes transfers to the airport for your flight home or onward to an optional cruise/tour extension. (B)
Our Ship - The AmaDahlia

When it's time to embark for your Nile River cruise, you'll be warmly welcomed aboard a beautiful river cruise ship where luxury always means love with AmaWaterways. The stunning AmaDahlia is an inviting 72-passenger ship offering 36 standard staterooms, including 16 magnificent suites with a wealth of amenities that will surprise and delight you, including a heated sun-deck swimming pool and bar, The Chef's Al Fresco Restaurant, hair and nail salon and two massage rooms. Marvel at scenic Nile River views in luxury, enjoy regionally inspired entertainment and savor the flavors of both local and Western cuisine on board.
"With AmaDahlia, AmaWaterways brings its contemporary European elegance and design to the Nile River. Passengers sailing aboard AmaDahlia can expect to find bright, airy public rooms and cabins that exude understated elegance while still showcasing Egyptian motifs."
Cruise Critic
The AmaDahlia Deck Plan

Space is extremely limited.
Please call for prices.
Extras

Abu Simbel Excursion: $370 per person when prebooked
4 Night Jordan package (pre-cruise) - $2,489 per person double
3 Night Dubai Package (pre-cruise) - $1,649 per person double
4 Night Israel Package (post-cruise) - $3,729 per person double
Egypt's fascinating story awaits to be discovered. Grab your "Indiana Jones Hat" and join us!
Please give us a call at 804-557-3006 for more information.
All spaces and stateroom categories are subject to availability.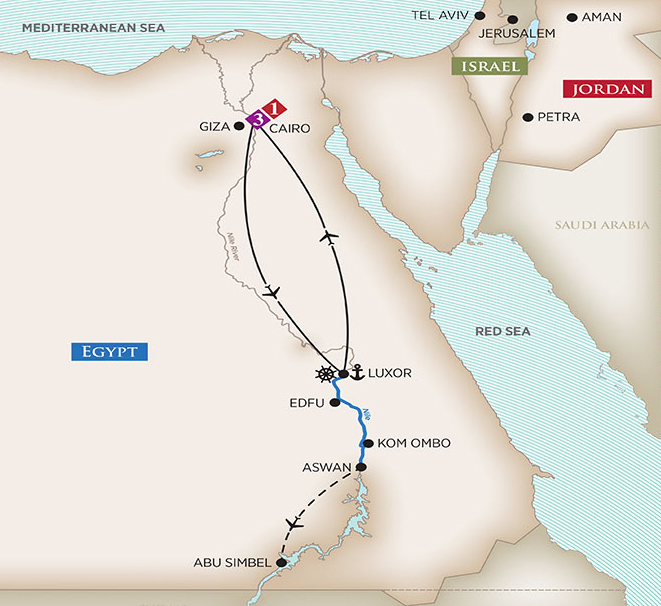 The Affluent Traveler Collection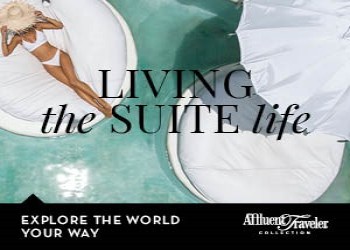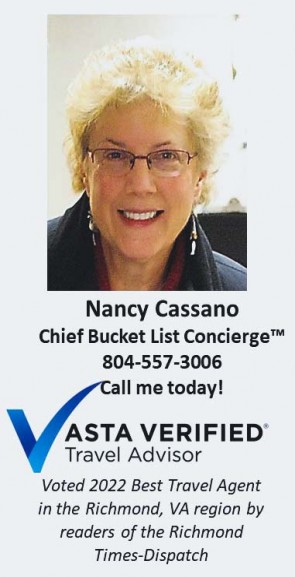 As a member of the Affluent Traveler Collection, we have access to preferred travel suppliers and destinations, wonderful offers and extra amenities to make your vacation an amazing experience.
We are proud to partner with suppliers that offer the world's finest travel experiences. Through long-standing relationships with the most upscale hotels, cruise lines, guided vacation companies and more, we have cultivated an unparalleled medley of diverse, exotic and unique travel products that will excite and entice anyone seeking an opulent and grand travel experience.
Please call us at 804-557-3006 for today's outstanding offers.
Special Prices Antarctica Cruise January 2024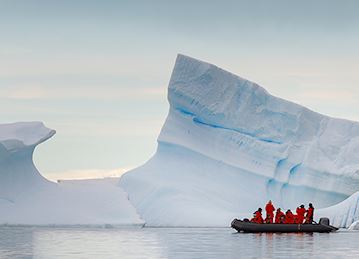 More Bucketeers are headed to Antarctica to take in the stunning scenery and dramatic wildlife.
If you have craved a new exciting destination, we have a special opportunity for you to cruise Antarctica waters while avoiding the hefty fees normally associated with expedition ships that come here each Antarctic summer.
We have arranged special pricing on a remarkable 14-night cruise, roundtrip Buenos Aires, Argentina on the Celebrity ECLIPSE to Antarctic waters, with special stops in Argentina, the Falklands and Uruguay.
Please call us at 804-557-3006 if you are interested in taking advantage of this limited time offer.
Go Bucket List Travel will be happy to arrange pre and post cruise experiences for you, such as a visit to the famous Iguazu Falls.
Itinerary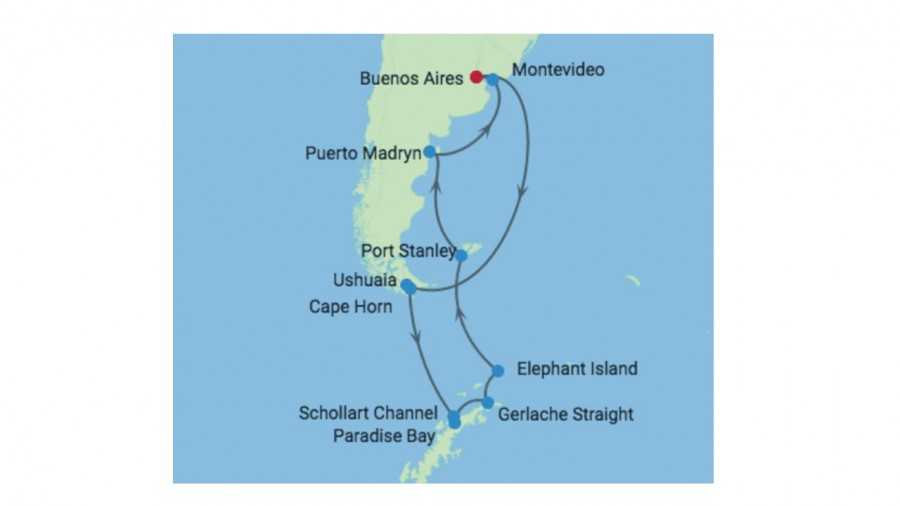 Our Special Prices
Concierge Class C1 [amidship]: $3,683 per person, double occupancy
Concierge Class C2: $3,594 per person, double occupancy
Oceanview Balcony V2: $3,282 per person, double occupancy
Your Price Includes:
For Concierge Staterooms:
Dedicated Concierge Staff to arrange your cruise events and shore excursions
Enhanced Room Service Breakfast Menu
Special Stateroom Amenities
For Everyone:
Special Air Rates
Free Classic Drink Package·
Free Gratuities·
Free Basic WIFI·
Port Charges of $377.82 p/p Extra
Itinerary Details
20 January 2024. Depart Buenos Aires, Argentina 5pm
21-23 January. Enjoy your sea days
24 January. Ushuaia, Argentina. 10am - 9pm.
25 January. Cruising Cape Horn, Chile 6am - 9pm.
Tierra del Fuego, Land of Fire, is the most isolated place in the Americas, and Cape Horn is its southernmost point. Named after the Dutch town of Hoorn in 1616, its craggy cliffs and windswept shores are stark, with a rugged beauty that creates a dramatic setting for the collision between the Atlantic and Pacific Oceans. And, depending on the time of year, you'll either encounter "hold on to your hat" waves, or gentle currents on a Cape Horn cruise. Visit Cabo de Hornos (Cape Horn) National Park and discover this lush UNESCO protected ecosystem. Created in the 1940s this 155,906-acre national park is home to diverse flora and fauna.
26 January. Cruising Antarctica Waters 11am - 7pm
Schollart Channel, Antarctica: Journey to the far reaches of the world with a Schollart Channel cruise. Experience the spectacular wildlife that inhabits the great white South Pole and breathe in the exhilarating air. With Anvers Island to the southwest and Brabant Island to the northeast, take in the mesmerizing sights of massive ice flows, humpback whales, waddling penguins, leopard seals and more in their natural, and somewhat extreme, element. You are certain to leave with amazing memories, and pictures, as you cruise through Schollart Channel located near Antarctica.
Paradise Bay. This name aptly reflects the stunning beauty you'll find here, just as the clear waters beautifully reflect the spectacular mountains, such as Rojas Peak, Bryde Peak, and the Petzvol Glacier. Within these waters we may see Minke whales feeding and Gentoo penguins curiously observing us from the rocky shores.
Gerlarche Strait. A number of geographical anomalies around this channel make these waters among the most plankton-rich in the world. You're likely to see a profusion of whales feeding in the rich ecosystem, which is a sight you'll not soon forget.
27 January. Cruising Elephant Island. Cruising 2pm - 6pm
This tiny island in the Weddell Sea of Antarctica plays a role in one of seafaring history's most legendary exploits. When the brave crew of the Endurance, led by intrepid explorer Sir Ernest Shackleton, was trapped in the ice during a 1914 polar expedition, they took refuge on this island until help arrived. And, even though they spent the entire winter waiting for rescue, not a single crew member was lost.
Located in the Southern Ocean near the outer reaches of the South Shetland Islands, Elephant Island has claims from not only Argentina and Chile, but also the United Kingdom. Brazil also has two shelters here that contain up to six researchers that work during the summer months.
Check out the island's wildlife on your Antarctica cruise. The island is covered with elephant seals, hence the name Elephant Island. At Cape Lookout, a bluff on the southern coast where various penguins (chinstrap, gentoo, and macaroni) call home. Other birds of note include sheathbills, cape petrels, and stormy petrels; it's also a great place to spot the elephant seals and Antarctic fur seals. The truly adventurous can explore the moss colonies, which are thought to be thousands of years old. The moss bank is not terribly far from where the Shackleton party was marooned, and is considered one of the oldest living things in the world. Your cruise to Antarctica will truly be an experience of a lifetime.
28 January. Day at Sea
29 January. Port Stanley Falklands Island
Commune with the roughly 2,000 intrepid souls who call this remote former whaling outpost home. As you hike through the rocky, windswept landscape you may observe a few of the island's flightless residents—including Magellan penguins burrowing underground, and rockhoppers carefully observing you from outcroppings.
30 January. Sea Day
31 January. Puerto Madryn, Argentina 7am - 4pm
This deep water port was founded in 1865 by Welsh immigrants. Extending out into the Atlantic from Puerto Madryn is the Península Valdés, a wildlife sanctuary where vast numbers of sea elephants, whales and penguins far outnumber the few human visitors who make it out this far.
1 February. Day at Sea
2 February. Montevideo, Uruguay. 9am - 4pm
Montevideo is a thoroughly modern city with a rich artistic tradition, the reach of the rural estancias is all around you. If ever there were a time you were inclined to indulge, delicious steaks are the specialty of the house in virtually every restaurant.
3 February. Buenos Aires. Arrive 5am
Escorted Luxury Tour Specials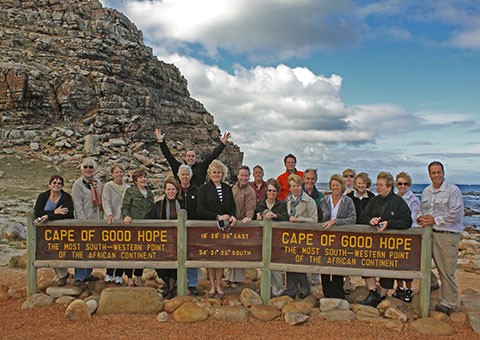 Save Now on 2023, 2024, and 2025 Tours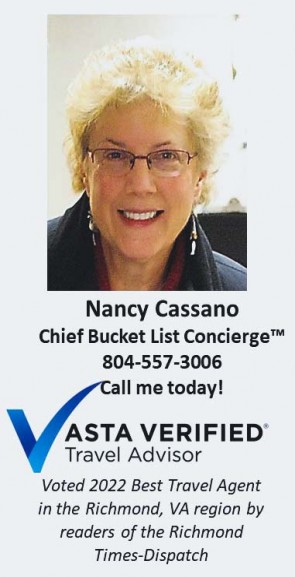 Where Can We Send You?
We at Go Bucket List Travel have a passion for travel.
Our goal is to meet our client's "Bucket List" requests by offering the widest possible options for experiencing the ultimate vacation.
For many of our clients, an all-inclusive packaged luxury, small group tour is the best option for experiencing the world. These clients prefer to travel in safety with a small group and benefit from the services of exceptional tour guides, travel concierges and set schedules.
The good news is that our travel industry network of trusted supplier partners represents the best in escorted luxury travel services. This allows us to find for our clients the best pre-designed packages that will maximize their fun while offering the best possible prices and scheduling.
We are busy booking 2023, 2024 and even 2025 escorted tours.
Call us today for special prices on remaining 2023 tours and early booking bonuses for 2024 and 2025 escorted tours.
804-557-3006
Our favorite Suppliers
To find out more about these luxury, small group tours, please contact us right away at 804-557-3006 send us an email @ info@gobucketlisttravel.com .
The benefits of a fully-escorted tour:
Cancellation protection that allows for trip cancellation prior to departure

Scheduled itineraries and fixed ground prices that allow you to plan ahead, often as much as 16 months ahead

Imaginative itineraries that blend cultural experiences and free time to explore

Head of the line privileges to minimize delays

Dedicated tour guides and local experts

Choice of travel style and accommodation levels from budget to plush

Perfect for groups who wish to travel together

Ideal for multi-generational travel
Canadian & USA Rail Adventures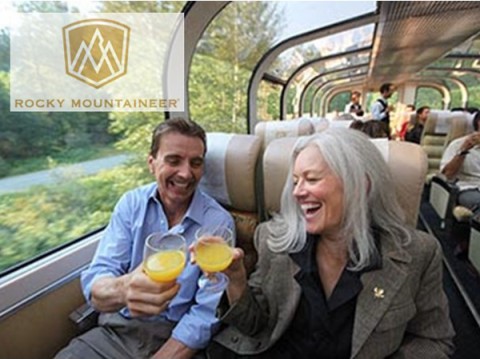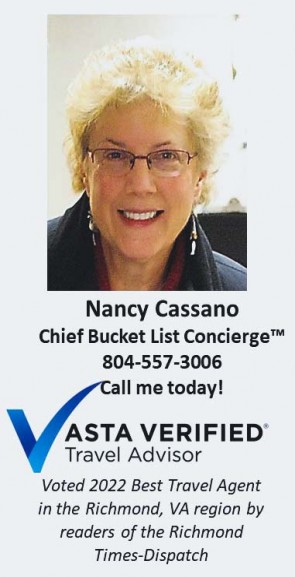 All Aboard 2022!
Head to Western Canada or the USA and enjoy the unforgettable Bucket List experience of rail travel on the Rocky Mountaineer.
Call us today at 804-557-3006
New Route
Rocky Mountaineer announced a new route in the United States. The "Rockies to the Red Rocks" route will be a two-day train journey between Denver, Colorado, and Moab, Utah, [ or reverse ] with an overnight stay in Glenwood Springs, Colorado, a resort city in Colorado [ elevation 5,761' ] known for its hot springs. The itinerary is available from August through October.
The two-day rail journeys, including a one-night hotel accommodation in Glenwood Springs, will start from $1,250 USD plus tax per person.
Please call us at 804-557-3006 for details and to hold your space.

Perks: [7 day /8 night packages]
1 x additional hotel nights at the beginning or end of the qualifying package in Vancouver, Calgary, or Victoria
1 x airport transfer from the hotel to airport or airport to hotel, in Vancouver or Calgary
1 x set-menu dinner at a hotel in the destination of choice, excluding rail days
Perks for 5 – 7 day packages:
1 x additional hotel night at the beginning or end of the qualifying package in Vancouver, Calgary, or Victoria
1 x airport transfer from the hotel to the airport or airport to the hotel, in Vancouver or Calgary
Full payment of the balance is required 60 days prior to departure.
Call Go Bucket List Travel today at 804-557-3006.
Uniworld River Cruise Collection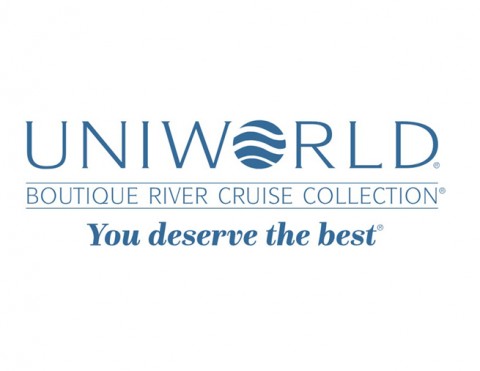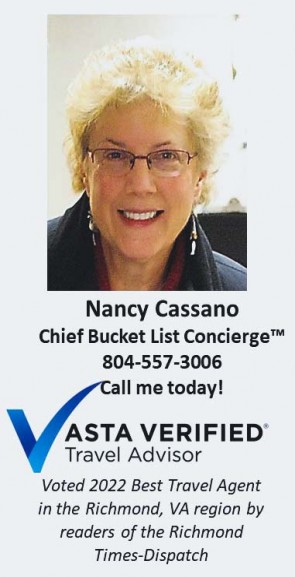 This month Uniworld Boutique River Cruise Collection, a leader in river cruise excellence, has exceptional 2023 early booking offers
Uniworld has also waived or reduced solo traveler supplements on many itineraries.
Call us today at 804-557-3006 to take advantage of this tremendous offer or use our handy quotation link.
Let us know if you have a family or group vacation in mind. If your group is large enough for five or more staterooms we'll be happy to negotiate valuable lower group rates and discounts for you.
Uniworld sets the standard for excellence in hospitality, culinary and nautical practices in luxury river cruising
"No request too large, no detail too small"
Each exquisitely appointed Uniworld ship is an inspiring work of art.
Extraordinary experiences both onboard and onshore.
The finest chefs, the freshest ingredients sourced from local farmers' markets and other regional suppliers and distinctive wines and beers chosen by acclaimed sommeliers
Innovative onshore programs go well beyond landmarks and group tours.
Personalized experiences tailored to match both your interests and lifestyle, choose excursions ranging from guided bicycle rides to exclusive wine tastings designed to immerse you in the local cultures.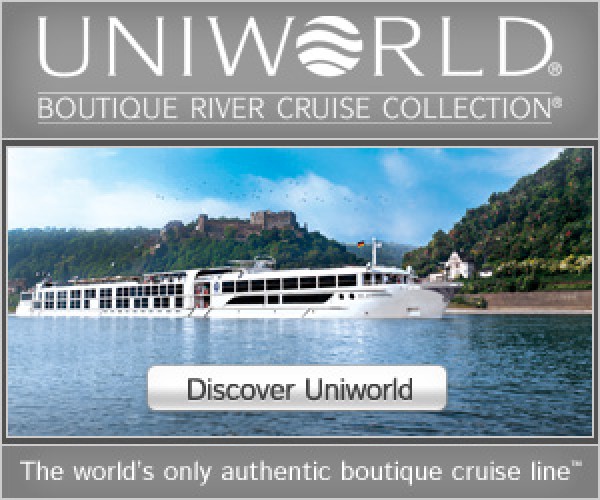 Viking River Cruises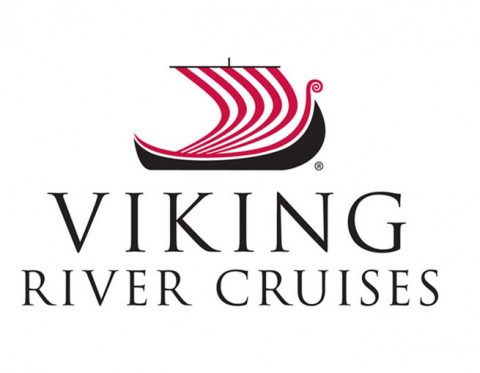 Ask Us About Up to Free Air Offers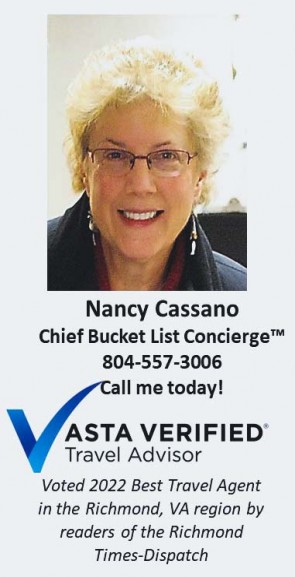 Viking is welcoming you back to cruising with special prices and outstanding air offers, including free air on select two-week cruises.
Travel with Viking, the world's most award-winning river cruise line. Viking ships are elegant, stylish and exceptionally comfortable. Spacious staterooms and open, public areas keep you in close touch with the world around you. You'll journey into the heart of the world's great cities. Viking has more itineraries in more destinations worldwide than any other river cruise line.
Take advantage of this month's special offers, including 2023 early booking deals. Many cruises booked this month now come with free or reduced air.
Please call us at 804-557-3006 or use our handy quotation link.
Use the handy link below to see this month's specials, including last minute travel deals.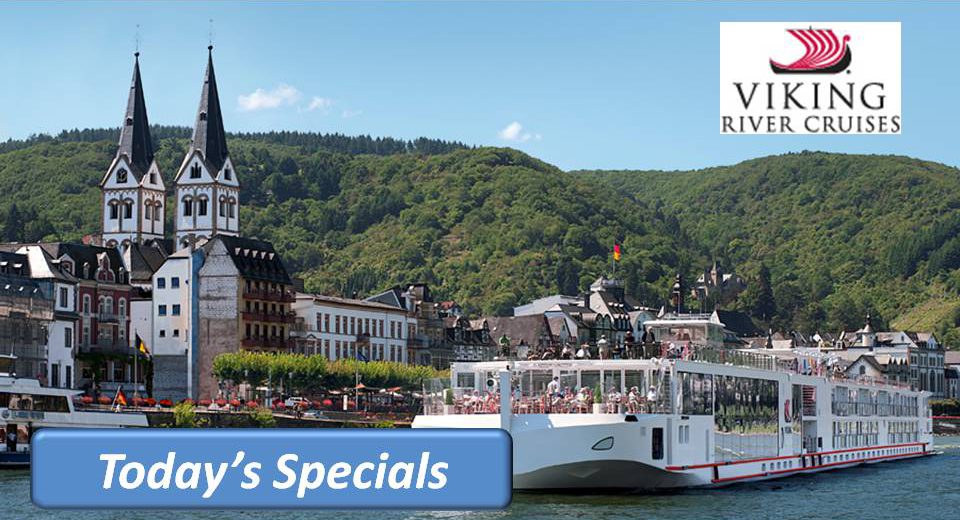 Celebrity Summer Sale Offers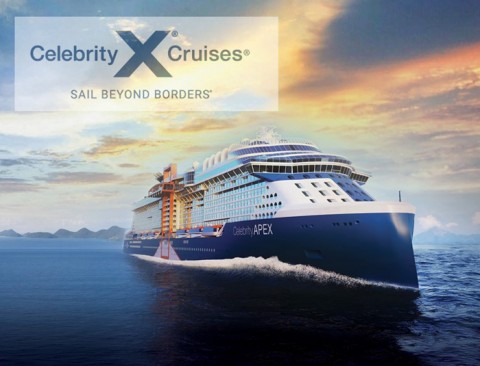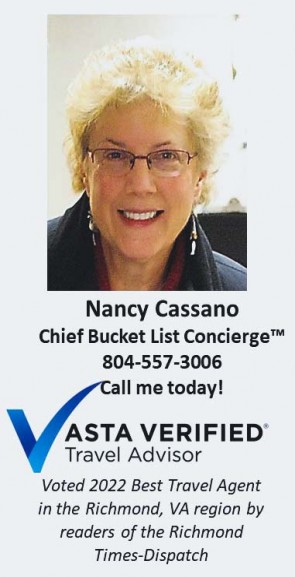 Spring has sprung and summer is hot on its heels with the return of our biggest offer ever from Celebrity Cruises.
For a limited time, save on the award-winning vacation you have been dreaming about in Europe, Alaska, the Caribbean, or almost anywhere Celebrity sails.
We invite you to step aboard a Relaxed LuxurySM resort at sea and let Celebrity transport you to the most popular places in the world.
Without a doubt, the Go Bucket List Travel Team members are your Celebrity Cruises experts.
Please give us a call at 804-557-3006.
Or email us at info@gobucketlisttravel.com
Now, we invite you to take advantage of this special Celebrity offer, now through July 6, 2023….
Spring Into Summer Savings
Celebrity has extended its popular second guests sail for 75% off plus special cruise discounts and amenities.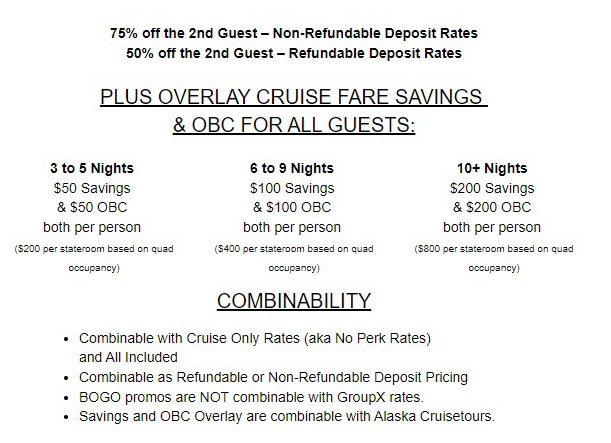 We have sailed and placed Bucketeers on every beautiful Celebrity ship. The new Celebrity BEYOND, the third in the EDGE-Class, has now entered service and we are honored to be invited to attend her Naming Ceremony cruise in November.
Please give us a call at 804-557-3006. We'll be happy to find your perfect Celebrity cruise, matched to your interests, schedule and budget. We are your Celebrity Experts!
We invite you to join the fun and take advantage of our group rates and amenities.
Please see our Specials Page for our groups and discounted Celebrity sailings to Bermuda, Israel & Egypt, Caribbean, Mediterranean, Iceland and through the Panama Canal.
We are Celebrity Experts!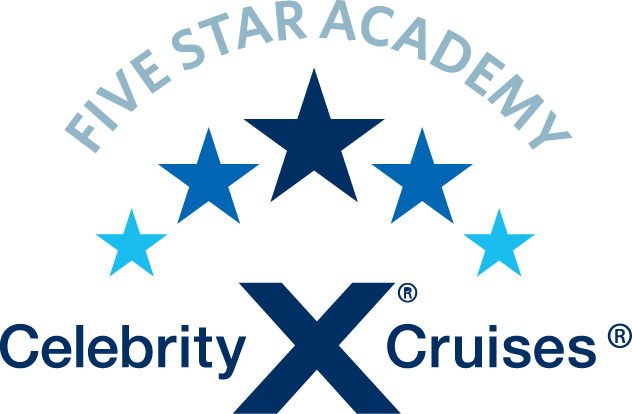 Royal Caribbean Specials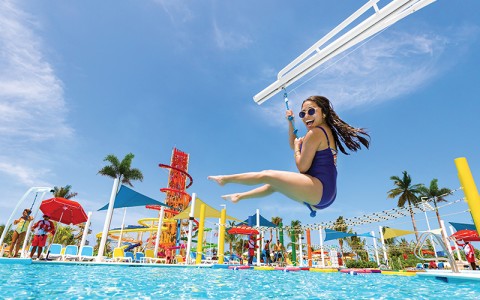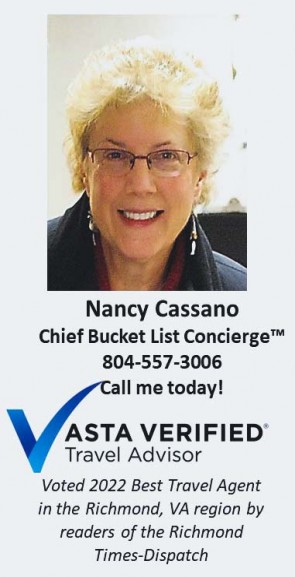 Don't miss Royal Caribbean's exciting April offer
Book between April 1 - 301, 2023 and receive
30% off everyone sharing a stateroom PLUS kids sail free!
Summer Bonus! Rake in up to $100 extra when you…
Sail between May 24 - September 1, 2023
Plus: savings of up to $650.
Please call us today at 804-557-3006.
Looking for the perfect family vacation?
The more memories the better — and you can make some epic family ones with Royal Caribbean®. Like upping your surf skills on the beaches of Barbados. Wandering the waterfalls of Jamaica. Or taking on the slides of Thrill Waterpark® at Perfect Day at CocoCay. Or exploring Alaska! Or visiting Europe!
Make those family vacation dreams come true with a Royal Caribbean cruise!
Cruising may be your most cost efficient family vacation. All of your meals and entertainment are included. Unpack once and your world comes to you.
For most cruises leaving from USA ports, Royal Caribbean has now dropped all COVID restrictions and test requirements.
To hold your stateroom or to find out more about Royal Caribbean cruises, please contact us right away at 804-557-3006 or send us an email
We are Royal Caribbean Experts!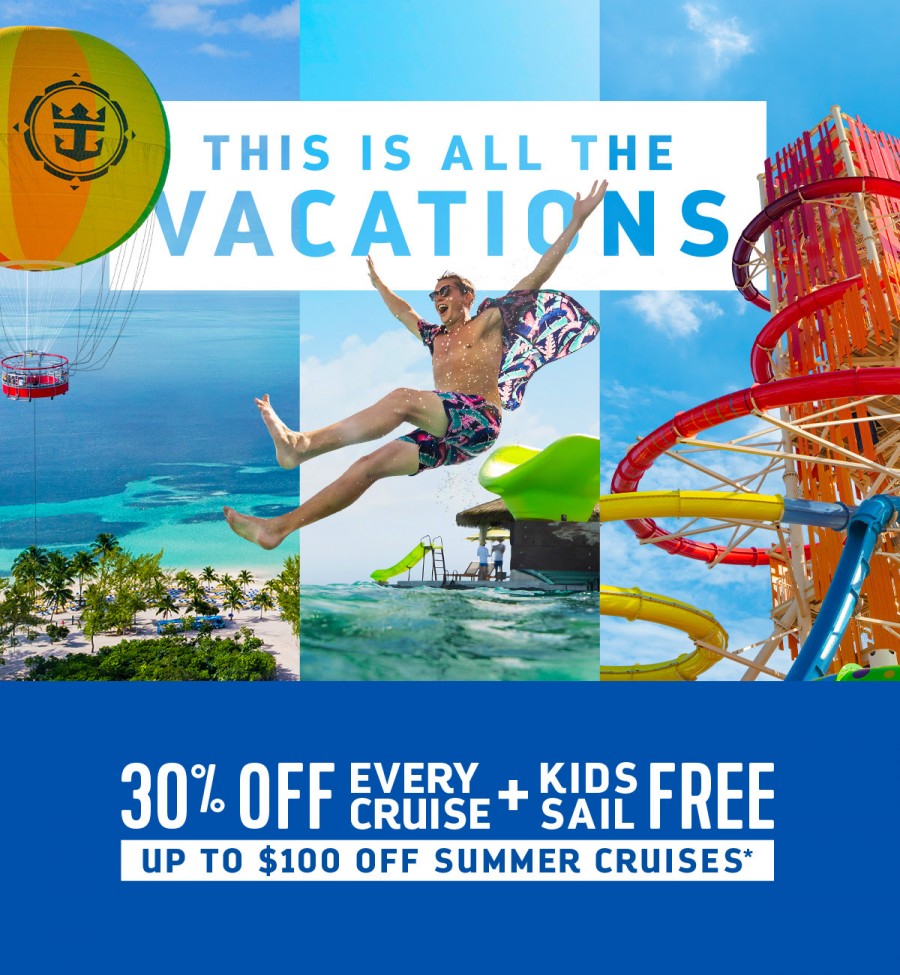 Silversea Cruises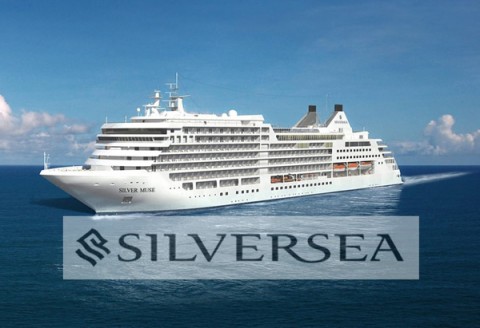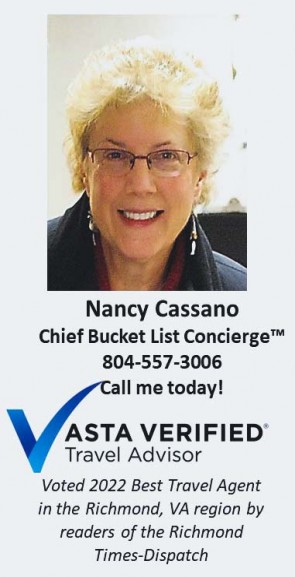 Silversea's small luxury ships are designed for those who delight in the thrill of discovery while indulging mind and body in the most lavish surroundings imaginable. All accommodations are spacious, ocean-view suites that include butler service, and most include private verandas.
Please call us at 804-557-3006 for details.
We invite you to take this opportunity to lock in great all-inclusive "Door to Door" fares and start thinking about your next exciting cruise.
DOOR-TO-DOOR ALL-INCLUSIVE
Door-to-Door All-inclusive fares cover everything from private airport transfers, economy flights, business class upgrades or air credit, shore excursions and all-inclusive on board lifestyle.

Silversea's fleet of ten small luxury ships is designed for those who delight in the thrill of discovery while indulging mind and body in the most lavish surroundings imaginable. All accommodations are spacious, ocean-view suites that include butler service, and most with private verandas.
ALL-INCLUSIVE EXCLUSIVITY.
With Silversea cruises you enjoy free-flowing premium wines and spirits, delicious gourmet cuisine, in-suite dining, full butler service for every suite and of course all gratuities.
FREE AIR PROGRAMS
Call us today to learn more about the Silversea Free Air Programs to the Caribbean, Europe, Africa and South America, plus $1,999 business class air to Australia and New Zealand
Silversea's innovative culinary excellence is a promise that you will savor the best gourmet experience at sea. After all, the food is as important as the destination. OCEANVIEW SUITES With just over 300 suites on Silversea's largest ships, and ample public spaces on board, there is simply no better place between sea and sky. Please call us at 804-557-3006 for details or to find a cruise and more information on Silversea. SILVERSEAS' GALAPAGOS The New Silver Origin, Silversea's newest ship designed and built specifically for the Galapagos – has been defined by the ability to adapt and evolve. This 100 passenger luxury exploration ship has now been delivered and is well on her way to the Enchanted Isles.
WindStar Weekly Specials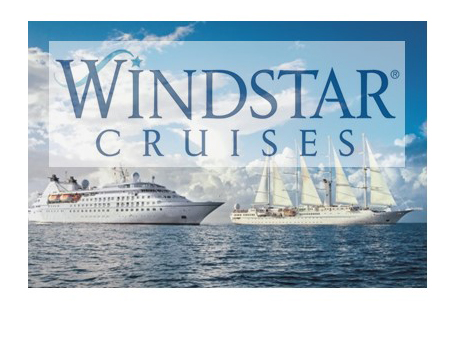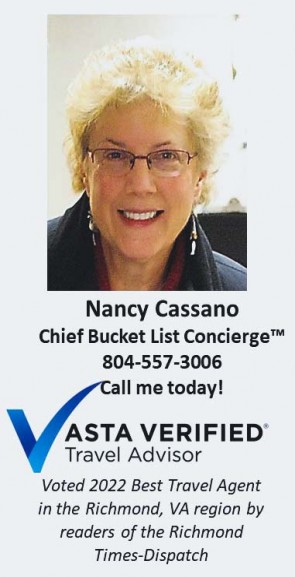 Each of Windstar Cruises yachts accommodates between 148 to 342 guests. This intimacy provides you with the luxuries of time, space, and freedom to immerse yourself in both the journey and the destination - in ways you may never have imagined possible.
Dream now and cruise later with these wonderful offers.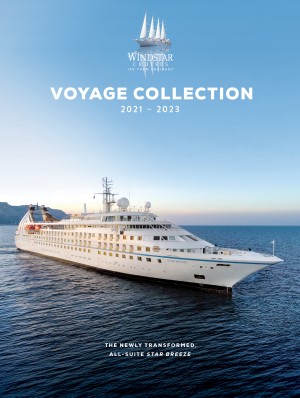 Special Tahiti Offer
Call us today at 804-557-3006 for special cruise+hotel+air deals on Windstar Tahiti voyages
7 for 7 Days Offers:
Every Thursday Windstar also assigns special prices to seven select cruises, good through the following Wednesday. This week choose from 7 outstanding 2023 cruises.
This Week's Specials. Prices expire 5/10/23
| | | | | |
| --- | --- | --- | --- | --- |
| 14 DAYS AUSTRALIA AND INDONESIA | BENOA TO CAIRNS | STAR BREEZE | 11/26/23 | $4,956 |
| 11 DAYS GREECE AND TURKEY | RTP ATHENS | WIND STAR | 07/19/23 | $5,422 |
| 8 DAYS GREECE | RTP ATHENS | WIND STAR | 07/22/23 | $3,722 |
| 9 DAYS GREECE AND ISRAEL | HAIFA TO ATHENS | STAR LEGEND | 10/28/23 | $3,711 |
| 9 DAYS ICELAND AND SCOTLAND | REYKJAVIK TO EDINBURGH | STAR LEGEND | 07/16/23 | $2,711 |
| 18 DAYS ITALY AND CROATIA | ROME TO VENICE | WIND SURF | 10/05/23 | $7,501 |
| 8 DAYS TAHITI HOTEL AND AIR | RTP PAPEETE | WIND SPIRIT | 08/09/23 | $5,722 |
| 7 DAYS TAHITI | RTP PAPEETE | WIND SPIRIT | 08/10/23 | $3,322 |
| 22 DAYS UK AND NORWAY | EDINBURGH TO COPENHAGEN | STAR LEGEND | 07/24/23 | $7,468 |
Call Go Bucket List Travel at 804-557-3006 for these and other exciting Windstar cruises.
#iamabucketeer
Sandals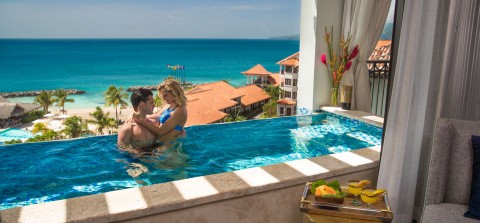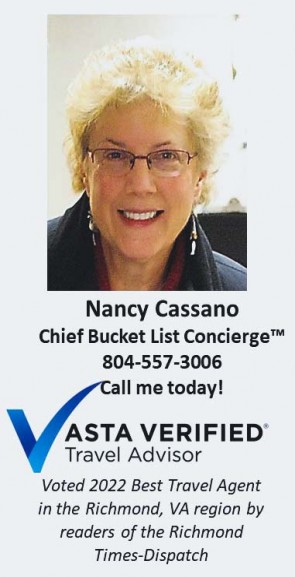 We invite you to learn about Sandals, the outstanding Caribbean all-inclusive resorts.
Plus, we have an exciting offer when your group books 10 rooms or more, plus how to earn a free honeymoon!
Go Bucket List Travel is your Preferred Sandals Agency
Call us at 804-557-3006 or use our handy quotation request link
Sandals' newest exciting resort: Sandals Royal Curaçao!

World-famous for its vibrant culture, pristine beaches, and coves, Curaçao also boasts 65 spectacular dive sites and exotic marine ecosystems. The amazing Curaçao climate awaits you, making it the perfect escape for you and the one you love. Nestled on 3,000 acres along the Spanish Water Bay, the all-new Sandals Royal Curaçao is a romantic paradise designed for lovers featuring 350 rooms and suites, including the first-ever Awa Seaside Bungalows with private pools, the first Kurason Island Suites overlooking a heart-shaped pool, and the unique Dos Awa 2-Level Infinity Pool. With 12 all-new dining concepts, including Sandals first-ever floating restaurant and three new food trucks, as well as the exclusive MINI Coopers available for complimentary use for select room categories – this brand new resort is redefining the Luxury Included® experience.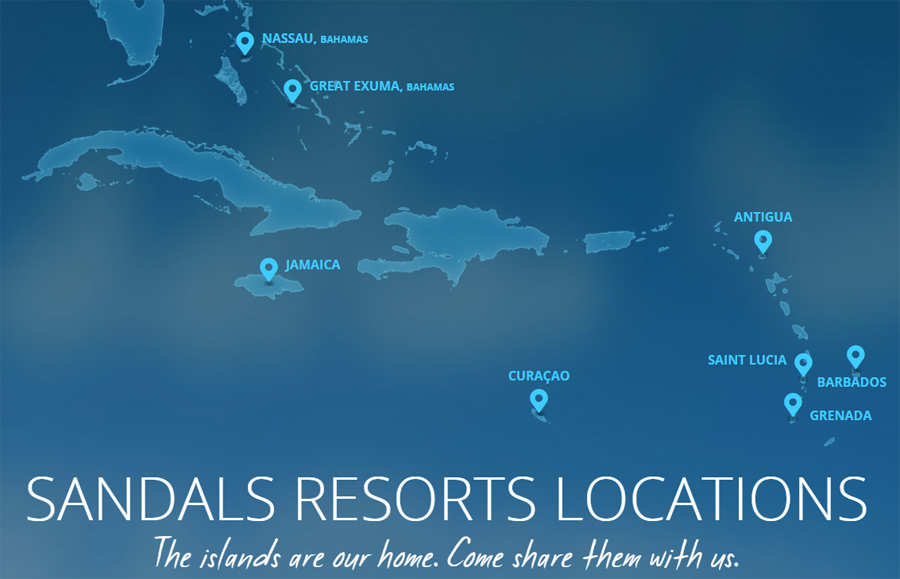 Call: 804-557-3006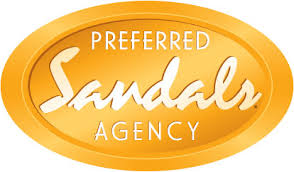 Beaches Specials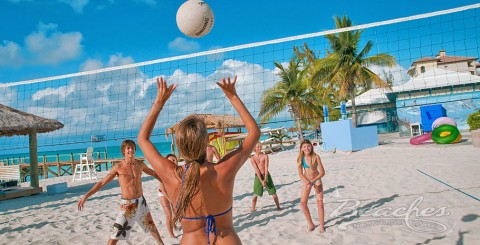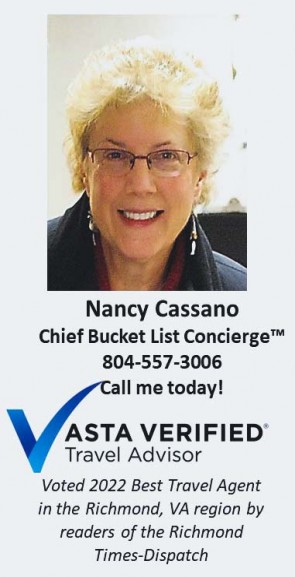 Learn More About Beaches
The best family resorts in the Caribbean!
Your perfect family getaway awaits you at Beaches all inclusive Resorts in Jamaica and Turks and Caicos. Play on pristine, white-sand beaches caressed by crystal-clear seas. Spend your family vacation in luxurious rooms and suites. Enjoy a whole array of incredibly exciting and fun activities for kids of every age. Truly, Beaches Luxury Included® vacation package deals in Jamaica and Turks & Caicos promise unforgettable family fun beneath the Caribbean sun.
Beaches is also a perfect for destination wedding groups with children. Please call us for details.
Call us at 804-557-3006 or use our handy quotation link