Let our Bucket List Concierge™ Team plan your dream vacation now!
Contact Us
Central America Escorted Tours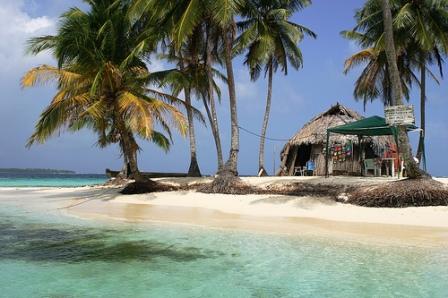 Panama and Costa Rica Escorted Tours
Close by, yet exotic, the beaches, rain forests, volcanos, plantations, thermal springs and bio-diverse eco-systems of Central America are popular destinations for nature lovers, birders, game fishing, and adventure tours.
Below is our list of popular escorted tours, chosen for their value, immersion into the breathtaking scenery, cuisine and culture as well as their range of outdoor activities.
Call for prices. Tours are priced per person, double occupancy. Please call us at 804-557-3006 or toll-free at 855-462-8253 for single and triple rates.
11 Days, Panama Canal and Costa Rico
Combine the magic of a Panama Canal crossing with a Costa Rica cruise on this 11-day escorted tour. Enjoy up-close discoveries of amazing wildlife, fascinating centuries-old cultures and man-made marvels, one night in Panama City and a two-night stay in San José. A 7-night voyage aboard one of Windstar's new all-suite Pride Class power yachts, Star Pride or Star Breeze includes a complete transit of the Panama Canal, and an opportunity for cultural exchange with locals in Panama and along Costa Rica's Pacific coast. Explore the rich interior and its abundant wildlife with our expert naturalists. Go swimming or snorkeling, land on islands via tender or Zodiac craft, visit a gold museum in San José and learn how coffee beans are harvested and brewed to perfection. Experience the pleasures of small ship cruising through the Panama Canal and on a Costa Rica cruise!
11 Days, Costa Rico World of Nature
On this tour you'll be immersed in Costa Rica, a living Eden on the Central American isthmus. Visit the Green Turtle Research Station. Settle in for two nights in Tortuguero National Park which protects 13 of Costa Rica's endangered species. Dazzle your senses with experiential tours surrounding coffee, farm-to-table cuisine, craft beer, and spice cultivation. Enjoy an exhilarating Corobici River rafting adventure. Overnight at the foot of Tenorio Volcano. Discover Costa Rica's little-known indigenous population with a visit to the Maleku Indigenous Reserve. Explore the white sandy beaches of Manuel Antonio National Park, just minutes from your hotel. Behold the spectacle of the Villa Blanca Cloud Forest from your individual casitas.
9 Days, Essence of Costa Rica
You'll explore the classic highlights that have made Costa Rica so famous while staying at iconic, off-the-beaten-path resort hotels. Visit cultural centers and private gardens. Relax in thermal pools with views of an active volcano. Walk on hanging bridges through tropical cloud forests. Have a hands-on culinary experience learning to make tamales. Tour bio-diverse national parks. Pamper yourself at the spa or lounge by the pool surrounded by acres of wildlife-rich tropical forests. Take in the sunset and panoramic views of the Pacific Ocean.
9 Days, Tropical Costa Rica
Lush forests and stunning waterfalls… rumbling volcanoes and endless coastlines… Costa Rica is a paradise teeming with exotic plants and incredible animals. Luxuriate at a resort for two nights in Tamarindo Beach, known for its breathtaking beauty and fine sandy beaches. Spend two nights in Monteverde's fascinating cloud forest. Experience the forest canopy on hanging bridges nature walk. Explore part of the 20,000 acre nature preserve of Cano Negro on a river boat adventure. Relax in the mineral-rich waters of a hot springs with views of Arenal Volcano. Explore San Jose's Plaza de Cultura and the magnificent National Theatre.
9 Days, Discover Panama
This escorted tour will explore the colors and natural beauty of Panama – a land between the seas. You'll cruise through the canal aboard the Pacific Queen on a partial transit and stay at the Gamboa Rainforest Resort. Travel via dugout canoe to meet the indigenous Emberá people. Explore bustling local markets. Visit the historic district in Panama City, Casco Viejo, and the Miraflores Locks Visitor Center. Visit an orange grove as you learn about the importance of this crop. Stay in Anton Valley, a community nestled entirely within a volcano crater. Meet the locals and learn about Panamanian folklore, artisan crafts, and rum distillation in Chitré. Complete your Panama experience with a final night in your resort overlooking Playa Bonita.
9 Days, Costa Rica Tropical Adventure
This tour, roundtrip San Jose, features 3 nights in San Jose, 2 in Fortuna and 3 in Manuel Antonio. Each day is packed with activities, such as tours, river cruises, hikes, zip lines and scenic drives. You'll visit several national parks with vistas of volcanos and wildlife preserves home to exotic animals, birds and fauna.
8 Days, Costa Rica Natural Paradise
This escorted tour, roundtrip San Jose, takes you throughout the country from the Arenal Volcano in the north to Pacific beaches in the south. You'll enjoy a hike through the Escalonia Cloud Forest Trail rich in epiphytes, orchids, ferns and tropical hummingbirds. See sugar cane, pineapple and orange plantations. Cruise through the Cano Negro wildlife refuge. Visit Leatherback Turtle NP, Relax at the J.W. Marriott Guanacaste Resort and Spa. Cruise on the Tarcoles River adjacent to the Carara Biological Reserve. Visit the Manuel Antonio NP, home to the white face monkey, squirrel monkey and three-toed sloth. Glide through and above the rain forest with views of waterfalls and the Pacific.
8 Days, Panama Canal Cruise, Rainforests and Beaches
Welcome to the Panama Canal, the most important waterway in the world. On this escorted tour you'll take two daytime cruises on the Panama Canal: one through the canal locks and another cruise on Gatun Lake. The Isthmus of Panama links North and South America. You'll see both the Atlantic and Pacific oceans plus explore rainforests and sandy beaches. Meet friendly native Indians living in the jungle.
7 Days, Family Adventure in Costa Rica
This family vacation will unveil the mysteries of nature at its most beautiful. Explore the scenic wonderland of this Central American paradise—boasting a verdant rainforest, breathtaking coastlines, rugged mountains, numerous waterways, active volcanoes and exotic wildlife.Travel by boat through a network of waterways and along the coast to beaches where turtles nest during turtle nesting season. Be awed by lush rainforests and exotic vegetation lining the water's edge. View the park's turtles and other wildlife including monkeys, exotic birds and giant sloths. Soar above a rainforest canopy and through the clouds. Our Adventure Guides help make this the highflying thrill of a lifetime! Enjoy a rafting adventure down roaring rapids and gushing waters on the Tenorio River (Class II - Class III). As you glide through smoother passages, marvel at the stunning forest scenery, tropical birds and other wildlife. Private catamaran excursion. Departures from December through August