Christmas Market Escorted Tours and Cruises


Let our Bucket List Concierge™ Team plan your dream vacation now!
Contact Us
Christmas Market Escorted Tours and Cruises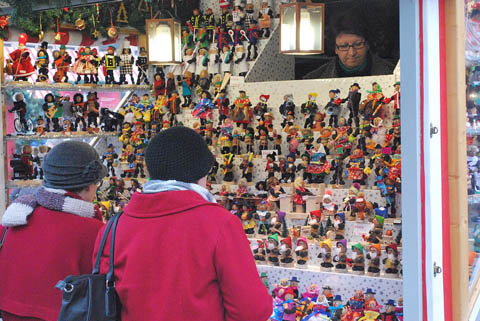 The Sights, Sounds and Flavors of an Old-World Christmas
Perhaps its the smell of gingerbread, cloves, cinnamon, oranges and fresh cedar or the sparkle of glass ornaments or the taste of hot Glühwein or simply the excitement of looking for the perfect Christmas decoration. Whatever the reason, Christmas Market cruises and escorted tours sell out early.
Almost every city and town in central Europe, but especially in Bavaria and Austria, host Christmas street markets during December known locally in southern Germany as a Christkindlmarkt [Christ Child Market]. Many can trace their roots back a thousand years.
Most markets open around November 25 and remain open until approximately December 23.
At these open air markets you will find many handcrafted items, toys, food, drink, Christmas decorations and tree ornaments.
Each country has its own flair and the markets reflect these various customs. Most tours and cruises will take you to major markets in Germany, Austria, Czech Republic and even Hungary so you can experience the local flavor and various customs.
Below are our recommended tours with prices for 2016 and 2017 escorted tours and 2016 river cruises.
Call for Prices. Tours are priced per person, double occupancy, land only. Prices are subject to change and tours do sell-out quickly. Please call us at 804-557-3006 or toll-free 855-462-8253 for child, single and triple rates
Land Tours
9 Days, Christmas Markets - Germany, Austria, France
Bring an empty suitcase with you as you experience the 600-year-old holiday spirit of "Christkindlesmarkts" in Germany, Austria and France. You'll spend three nights in the traditional Alpine village of Oberammergau, two nights in the heart of the Black Forest and 2 nights in historic Wurzburg. Sip mulled wine and collect unique handicrafts, hand-made ornaments and toys at some of the largest and most famous Christmas markets in Europe. Bask in holiday cheer as you stroll along the cobblestone streets of Innsbruck, capital of Tyrolean Austria. Explore historic Nuremberg, Würzburg and Rothenberg, some of the best preserved medieval towns in Europe. Visit the famous Nuremberg Christmas Market dating back to 1628, where you can sample sausages and gingerbread. In Innsbruck, embark on your choice of a cultural or architectural walking tour. Explore Strasbourg Petit France and its quaint market stalls huddled around the imposing cathedral.
7 Days, Magical Christmas Markets - Germany and Austria
Delight in a single hotel stay in the charming town of Innsbruck, alive with holiday cheer. Travel through Austria and Germany to explore the history and tastes of this region and to spend time browsing its famous Christmas markets. Join a local guide to discover Innsbruck – you choose either historic or architectural perspectives. Be introduced to the exciting city of Munich on a panoramic tour. Venture by train into the mountains to the charming village of Seefeld to warm yourself with a glass of schnapps and enjoy a traditional carriage ride. Journey to Salzburg for a walking tour with a local expert and a delightful dinner at the centuries-old St. Peter's Restaurant. Relish the holiday season that adorns the region in lights, energizes it with activity, and decorates it with market stands filled with handmade crafts.
RIVER CRUISES
12 Day, Munich to Budapest
Viking River Cruises: . On this enriching cruise tour, you'll explore Munich for 3 days, including a visit to the fairy-tale castle of Neuschwanstein and Linderhof Palace. Head to romantic Salzburg for two days to stroll in the footsteps of Mozart and the von Trapps before meeting your ship in Passau on the Danube. You'll enjoy a hot beverage on the observation deck as you glide through the Wachau Valley before arriving in glittering Vienna for a day of touring. Then it is onto Slovakia's fascinating capital of Bratislava before arriving in Budapest which dazzles at night and hosts a multi-block outdoor Christmas Market where you are sure to find that last minute unique gift..
10 Day, Prague to Budapest
AmaWaterways: Celebrate the magic of the holiday season, starting with two nights in Prague. Embark upon your cruise in Nuremberg, stopping to visit some of the charming towns where many beloved Christmas traditions originated. Wander the stalls of Europe's most traditional and enchanting Christmas Markets, shopping for handcrafted toys and gifts, sipping hot mulled wine and inhaling the fragrance of gingerbread and roasted chestnuts. Experience colorful local traditions in such picturesque locales as Regensburg, Salzburg and Vienna before concluding your cruise in Budapest, which offers its own festive take on the holiday.
8 Day, Nuremberg to Budapest
Emerald Waterways: A beautiful cruise on one of the newest ships on the Danube. Visit the Christmas markets of Nuremberg - one of the largest in Europe - Regensburg, Passau, Vienna, Bratislava and Budapest [o/n].