Let our Bucket List Concierge™ Team plan your dream vacation now!
Contact Us
Cuba People-to-People Tours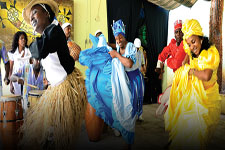 Travel Worry Free to Cuba
Excitement is building as barriers continue to fall and American tourism is coming to Cuba.
Our escorted tours are certified "People-to-People" education exchange trips to Cuba. All of these tours are accompanied by professional tour guides and experienced local Cuban guides.
We have selected the trips below as they include chartered air from Miami or Tampa, plus an overnight stay in the US prior to traveling to Cuba. The trips include meaningful cultural experiences and connections with Cuban families, artisans, students, entrepreneurs, athletes, and educators.
Call for today's prices. Tours are priced per person, double occupancy. Space is subject to availability. Please call us at 804-557-3006 or toll-free at 855-462-8253 for single and triple rates.
13 Days, Cuba Cultural Odyssey
Roundtrip Miami. For 2017, this 13-day trip will head across the length of the island for in-depth People-to-People exchange in Havana, San Francisco de Paula, Santa Clara, Camagüey, Holguín and more. Talk with students, teachers, artists, preservationists, musicians, community leaders… delve into Cuban education, history, music, architecture, Ernest Hemingway's life and work in Cuba, community art, agriculture, sugar cane production and much more… dine at privately run paladares, meet Cuban families, and interact with Cubans and their culture.
9 Days, Rediscover Cuba
From Tampa; return to Miami. Join this moderately priced Collette tour and cross a cultural divide, exploring the art, history and culture of the Cuban people. Develop an understanding of who they are when meeting with local shop keepers, musicians, choral singers, dancers, factory workers and more. Spend time at a retirement community, the "grandparents party," and listen to them sing, dance and play music. Ride a steam train through the sugar cane fields to the charming city of Remedios. Take in the colonial feel of Cienfuegos, "La Perla del Sur" or Pearl of the South. Visit historic cathedrals and colonial homes on city tours with your local guide. Spend 4-nights in one of the world's most culturally rich cities, Havana. Stay at the iconic Hotel Nacional and explore much of the city's architecture in Old Havana. Learn the rhythm of Cuba through Salsa dancing. Meet a Cuban family in their very own paladar, a privately-owned restaurant. Throughout your journey, experience the power of travel to unite two peoples in a true cultural exchange.
7 Days, Cuba Connecting with People
Roundtrip Miami. Meet face-to-face with local residents from different professions, share thoughts, gain knowledge, and connect with Cuba's cultural heritage on our 7-day, Havana-based Cuba: Connecting with People and Culture. Around key themes of Cuban culture and the arts, history, architecture, entrepreneurism, agriculture, baseball and more, travelers interact directly with the people of Cuba. Meet Cuban students, teachers, architects, artisans, dancers, musicians, coaches and ballplayers… learn about Ernest Hemingway's Cuba… discuss art and private enterprise at the studios of community artists… visit with agricultural workers to talk about agrarian reform and organic farming… interact with members of community and charitable organizations about their work… learn about Cuban cultural traditions… have meals at paladares (small, privately operated Cuban restaurants)… and connect with Cuba on Tauck's cultural exchange.