Let our Bucket List Concierge™ Team plan your dream vacation now!
Contact Us
France Escorted Tours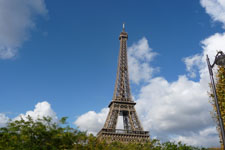 Our Best Escorted Tours of France
France is a beautiful country and we have enjoyed our many trips there.
Many tour companies offer escorted tours of France. Below are our choices for best value, cuisine, accommodations, activities and cultural immersion.
Call for today's prices. Tours are priced per person, double are subject to change based on tour date. Not all tour dates maybe available. Please call us at 804-557-3006 or toll-free at 855-462-8253 for single and triple rates.
7 Days, Paris and Champagne Country
This is a wonderful choice for your first visit to Paris. Your group will be based at the 4-star Hyatt Regency Etoile, located northeast of the Arc de Triomphe, with wonderful views of the Eiffel Tower. You'll enjoy a Seine River cruise, Notre Dame Cathedral tour, and more with your group. The schedule includes two completely free days to explore the city's many sites and museums. For a special treat your group will spend a day in the Champagne country with stops in Reims and Epernay to visit the Notre Dame de Reims and visit a wine cellar for a private tasting.
8 Days, London and Paris
Enjoy the best of London and Paris on this leisurely tour. All of the top sights are included, as well as plenty of free time for your own discoveries. See Buckingham Palace, the Tower of London and Big Ben. Enjoy a privately guided tour of St. Paul's Cathedral, where Charles and Diana were married. Personalize your tour by choosing to visit either Churchill's War Rooms or Westminster Abbey. Cross the English Channel on the high-speed Eurostar Train. Dine at the Eiffel Tower and cruise the River Seine at night. Come to know Paris in your own way: with a local guide by coach or by Metro. Enjoy a thrilling dinner and cabaret show at the Paradis Latin Cabaret.
8 Days, French Riviera
This tour will base you in Nice for a leisurely 6-night stay among the chic resorts and beautiful scenery that attract the rich and famous to the French Riviera. Your group will explore the fabulous Côte d'Azure. Spend time in the fairy-tale principality of Monaco. Discover the opulence of the Rothschild Villa and Gardens. See artisans create perfume. Visit Grasse and St. Paul de Vence. Enjoy leisure time to explore on your own. Shop like a local at Nice's colorful flower market and Antibes' classic Provencal open-air market.
9 Days, Paris, Loire Valley, Brittany and Normandy
With business-class legroom you'll be off on a week-long adventure through French history. Join an emotive journey tracing the D-Day landings. Marvel at Bayeux tapestries. Have fun while you are guided through the maze of halls and vaults of the massive famed Mont St. Michel abbey. Marvel at the fairy tale castle of Chateau d'Usse. Enjoy France's finest formal gardens at Villandry. Dwell amongst the beautiful stained glass of the Chartres Cathedral. Learn the grape varieties of the Loire Valley. Take in the fabulous sights of Paris by day and stunning by night. April through October departures.
11 Days, Paris-Provence-Riviera
This tour gives you three nights in Paris along with city tours and an evening Seine river cruise before you head south by high-speed train to explore Provence and the French Riviera. Stay three nights in charming Aix-en-Provence. Travel to Nimes and explore the best-preserved amphitheater in France. Visit Avignon where you will enjoy a tour and a visit to the famous Palace of the Popes. Experience the best of local French cuisine at a cooking demonstration. Savor a guided tasting of the mouthwatering combinations of French chocolate and red wines. Explore the bustling morning market in Saint-Rémy-de-Provence. Tour Cézanne's workshop in the town of Aix-en-Provence. Experience the good life in Nice and visit the famous local flower market. Learn the secrets of perfume making at an interactive demonstration. Witness the splendor of the Principality of Monaco as your journey comes to a close on the glittering Riviera.
12 Day, Paris-Normandy-Mont St Michel-Loire Valley-Provence
The perfect tour to branch beyond Paris to visit the best of France. Your group will start its tour in Paris with a city tour and evening Seine River cruise then head into the countryside. You'll visit the historic Normandy WWII battlefields and breathtaking Le Mont St. Michel. Delight in a 2-night stay in a stunning, renovated French abbey in the UNESCO World Heritage Loire Valley. Relish a tour of two of the Loire Valley's most famous castles – Château du Chenonceau and Château du Clos Luce. Sip wine during a tour of a well-known winery in the medieval town of Chinon. Experience a high-speed train to Avignon in Provence where you'll come to know the enchanting medieval walled city of Avignon during a walking tour and visit to the 14th-century papal palace. Discover and typical French market and learn about the lavender of Provence.
13 Days, Bordeaux and Provence
Delve into the culture, cuisine and history of southern France. Along the way, enjoy tours and tastings in some of the country's most famous wine regions. Experience a bit of Parisian life before taking the TGV to Bordeaux. Witness the UNESCO wine region and medieval village of Saint-Emilion. In Bordeaux, visit a Medoc winery and drive along the famed "route des chateaux". Discover the Dordogne Valley and two iconic medieval Bastide villages. Stroll amid the narrow streets and half-timbered houses of Saint-Antonin-Noble-Val. Witness the grandeur of the world's largest brick cathedral, as well as the Toulouse-Lautrec Museum in Albi. Tour the spectacular fortified village of Carcassonne and spend the night at an iconic hotel perched along its walls. Enjoy your choice of tour in Toulouse: a walking tour of the city and local market or a tour of the magnificent Airbus facility. Sample the flavors of Provence at the delightful Wednesday market at Saint-Remy-de-Provence. See Provence, through the lens of artists like Cezanne and Picasso. Tour the village of Avignon and marvel at the color and light show in Les-Baux. Many incredible moments and surprises await as you come to know Bordeaux and Provence.
18 Days, Paris, La Rochelle, Bordeaux, San Sebastian, Lourdes, Carcassone, Montpellier and Lyons
This beautiful tour ties together the two European gastronomic rivals, Paris, France and San Sebastian, Spain. Paris, with 10 3-star Michelin restaurants dominates the field, but did you know that San Sebastian is #2 across all of Europe with 3 3-starred restaurants? Along the way you'll have ample time to see the chateaux's of the Loire Valley. Sample the wines of the Bordeaux region. See famous prehistoric cave drawings. Sample Spanish wines. Visit the grotto of Lourdes. Explore medieval castles. Dine around in Montpellier. Imagine the spectacles once held in the 2,000 year old roman arena of Arles. Late April through September departuresp>