Let our Bucket List Concierge™ Team plan your dream vacation now!
Contact Us
Iceland Escorted Tours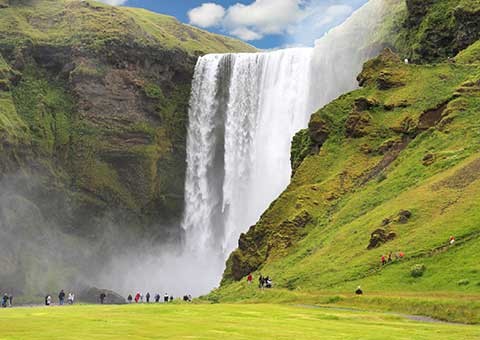 Iceland - Land of Fire and Ice
Iceland is hot..in a manner of speaking..it is THE new destination for outdoor explorers who wish to experience a part of the world alien, beautiful and easy to get to from the USA. Maybe its the "Game of Thrones" drama with its use of Iceland landscapes as the setting for "North of the Wall." It maybe new to us, but tell that to the Vikings who discovered it and the rugged people who enjoy life there.
There are many ways to experience Iceland's amazing combination of volcanic nature and massive glaciers that are still at work creating valleys and fjords and sending off dramatic waterfalls.
More cruises are calling on Reykjavik then ever and we even have small ship cruises that will circumnavigate the island nation.
This page offers you a selection of highly rated escorted land and small ship tours, some with small plane excursions to remote islands and regions.
Call for prices. Tours are priced per person, double occupancy. Prices are subject to change with departure dates and not all tour dates may be available. We are seeing heavy bookings on these tours with some dates sold out into 2017 so please call us at 804-557-3006 or toll-free at 855-462-8253 to book early. Call us also for single and triple rates.
9 Days, Iceland Classic Tour
An island of dramatic contrasts, Iceland is a landscape forged by fire and ice. Steaming lava fields and hot pools reflect its volcanic nature, while massive glaciers continue to sculpt the mountains and valleys, leaving thundering waterfalls and plunging fjords. Travel the "Golden Circle" where many natural scenic wonders are located. Enjoy an overnight stay in a local fishing village to enjoy a scenic bay cruise. Create your own adventure with your choice of exciting activities – soak in the Blue Lagoon, go on a whale watching cruise, take a volcanic cave hike, or stroll along coastal lava fields while admiring natural wildlife – its your exploration! Discover the spectacular landscapes and proud people of this small island nation during this fascinating journey. May through October departures.
8 Days, Iceland by Sea
Sold out year after year! Call us to get on the list for the 2018 edition of this 8-day Iceland cruise aboard your stylish, yacht-like Le Soleal small ship – and get to know surprising Iceland as few people do. Iceland… a land of volcanoes and glaciers… epic sagas, heroic legends and a rich history… elves and spirits… puffins and whales… home to the world's first legislative parliament convened in 930 AD, the northernmost golf course in the world, the most northerly capital city… and a human population of only a little over 300,000 people. Your Iceland cruise sails from sophisticated Reykjavik to off-the-beaten-track towns, tiny villages and islands populated by just a handful of people. Bird watchers will be delighted by all the opportunities to observe puffins, arctic terns and other species that thrive in Iceland, and history lovers will find much of interest in Iceland's story. Your yacht is small enough for an intimate cruise experience yet large enough to provide amenities found on large cruise ships; all staterooms and suites have ocean views, and 95% have private balconies. Alcoholic and non-alcoholic beverages are available throughout the day aboard ship, including house wines & spirits; premium spirits and wines are available at extra cost. June and July departures
7 Days, the Northern Lights
The "land of fire and ice" is a place of many wonders, including the rare opportunity to see the spectacular aurora borealis, or northern lights. This tour will bring you on a search for that once-in-a-lifetime moment. Take an exhilarating evening northern lights cruise. Travel to the "Golden Circle," home to many of Iceland's most renowned natural wonders. Spend time at Thingvellir National Park, the nation's most historic area. Gaze at the spectacular Gullfoss waterfall, one of the world's most incredible cascades. At Eyjafjallajökull Volcano Visitor Center, learn about life during and after the dramatic 2010 volcanic explosion. Explore Skogar Folk Museum and see traditional turf-built homes. Walk on a black volcanic sand beach. See Jökulsárlón glacial lagoon filled with floating icebergs. Relax in the warm, mineral-rich water of the natural geothermal pool the Blue Lagoon. Spend your evenings gazing at the night sky in search of the elusive and dazzling northern lights. January, February, March, October, November, December departures
7 Days, Around Iceland
Dramatic scenery and curious communities coalesce on this week-long circumnavigation of Iceland aboard the 440 foot 212 guest Windstar Star Legend cruising yacht. Explore a country few people will ever visit, and go far beyond the tourist hotspots to remote fjords, raging waterfalls, and small fishing villages. Get to know the independent and creative Icelanders, and watch whales and seabirds play offshore. This is yachting at its most inventive. . You'll soak in Rekjavik's thermal Blue Lagoon. Hike to Hengifoss Waterfall, stroll the Botanical Gardens of Akureyri. Take a polar flight to Grimsey Island on the Artic Circle. Witness Godafoss, the "Waterfall of the Gods." Go bird watching on Vigur Island, home to eider ducks, puffins, artic terns and more. Sample "Viking sushi" the national dish of Iceland. July departures.
7 Days, Active Iceland
If you're looking for a fast but full visit around Iceland, this small group seven-day trip fits the bill perfectly. It's got tons of main highlights – whale-watching tours, visiting glacier lagoons, and taking glacier hikes, seeing one dramatic waterfall after another, geyser hot springs – as well as plenty of hidden gems that you won't find anywhere else in the world. Be sure to pack your sense of adventure and get ready to feel Iceland under your feet. Children must be at least 12 to participate. Tourist-call accommodations. Breakfast only. Late April to Early October departures.