Let our Bucket List Concierge™ Team plan your dream vacation now!
Contact Us
Ireland Escorted Tours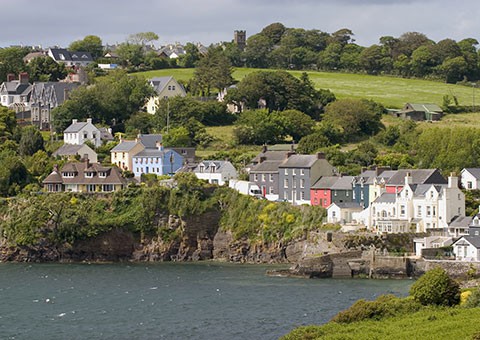 We want you to fall in love with Ireland
We have many options for you to experience the warmth and beauty of Ireland, but the motorcoach with a witty guide is still the first choice for most of our clients. You have many choices but we have selected our favourite tours below.
The following escorted tours offer a range of ideal itineraries, 4-star and above accommodations, entertainment, dining options and an overall best value.
Call for prices. Tours are priced per person, double occupancy, land only and subject to change based on departure date. Please call us at 804-557-3006 or toll-free at 855-462-8253 for group prices, single and triple rates.
13 Days, Everything Ireland
From vibrant and history-filled Dublin, across rolling green hills to the dramatic coast and onward to Belfast, experience all of the charms of Ireland on this 13-day magical tour of the Emerald Isle. Live like royalty during an overnight stay on the grounds of a castle. Visit the new House of Waterford Crystal factory. Choose from a selection of Killarney's & Derry's best restaurants with our Diner's Choice program. See the Atlantic from the stunning 700-foot Cliffs of Moher. Tour the walled city of Derry. Stand on the awe-inspiring Giant's Causeway. Experience the world-famous beauty of the Ring of Kerry. Have coffee and scones at a working farm. Explore Dublin with a local guide, either by foot or on a panoramic city tour – it's your choice! See beautiful Killarney from your seat on an Irish jaunting car. Journey to historic Blarney Castle, lean back and kiss its famous stone! March through October departures.
12 Days, The Wild Atlantic Way
This wide-ranging tour introduces you to both a familiar and new side of the Emerald Isle. Visit rollicking Dublin, charming Kinsale, the historic seaside community of Westport, and Galway – 'The City of Tribes." Explore Ireland's Wild Atlantic Way, visiting picturesque seaside villages such as Kenmare and Skibbereen. Choose your tour in Dublin – a driving tour of the city or a walking tour of Dublin's historic center. In Killarney enjoy a traditional jaunting car ride before traveling to Ballyseede Castle for an overnight stay. Stand in wonder at the breathtaking Cliffs of Moher. Visit a local farmer and learn about Ireland's rich agricultural history. Meander through the historic streets of Westport, known for its antique pubs and local shops. Explore traditional Gaelic culture at Cnoc Suian, a restored 17th-century Connemara hill-village. Choices of included activities along the way, like a visit to the coastal town of Cobh or a cruise of Kinsale's famous harbor, make this tour your own. Travel to Kylemore Abbey, home to Ireland's oldest community of Benedictine nuns. Travel to Ireland's whiskey region to enjoy a whiskey tasting. Toast it all with an evening of lore and legend in one of Ireland's oldest pubs! March and April departures.
11 Days, Irish Countryside
From ancient castles and historic Dublin to less-traveled roads and charming villages, this adventure brings together the best of the Emerald Isle. Come to know the culture and welcoming hospitality of the Irish in Dublin, Ireland's rollicking capital city, with a choice of ways to explore. Tour Kilkenny's Medieval castle. Step off the beaten path in the seaside village of Kinsale, known as Ireland's "gourmet capital." Make yourself at home as an Irish family welcomes you for a homestay. Discover the windswept terrain of West Cork's Wild Atlantic Way before arriving in charming Killarney. Travel through the tranquil countryside of the Ring of Kerry. Explore the Neolithic site of Newgrange. Feel like special guests of royalty when you spend two incredible nights in an elegant historic castle. Experience farm to table cuisine. Raise a glass and celebrate a journey through the many sides of Ireland. March through October departures.
9 Days, Luxury Castles and Country Estates
See the castles. Experience the culture. Meet the locals. And behold those famous shades of green that stretch as far as the eye can see. This is Ireland. And on this adventure you'll enjoy overnights at luxury properties and stand-out experiences to ensure every day is special. Spend two nights at Dromoland Castle – including a dinner that will truly make you feel like a royal! Overnight in the country at the Castlemartyr Resort and explore its 220 stunning acres. Gaze down upon the mighty Atlantic from the 700-foot Cliffs of Moher. Come to know Dublin and experience the world-famous beauty of the Ring of Kerry. Savor an Irish coffee at its birthplace in the Foynes Flying Boat Museum. Journey to Blarney Castle, lean back and kiss its famous stone! Step inside a working farmhouse for lunch with an Irish family. On this once-in-a-lifetime trip, retrace a beautiful history in a timeless destination. March through mid-November departures.
8 - 9 Days, Irish Pubs and Folklore
One of our favourite tours. The party starts with a Dublin tour and visit to the Teeling Distillery to sample aged whiskey. You'll discover Ireland's legends and folklore on this roundtrip around Ireland. Enjoy an evening of "food, folk and fairies" at Dublin's 12th century Brazen Head Pub. Get excited at the sheep dog trials. View the Cliffs of Moher by boat and celebrate Irish life at the Kate Kearney's Cottage. Along the way you'll visit Kilkenny, Waterford, Blarney Castle, the Dingle Peninsula and Galway. See the wild Atlantic coast, beautiful estuaries and steeply sloped mountains by the sea. Learn the secrets of "black beer" at the Guinness Storehouse. March through November departures.
8 - 9 Days, Irish Gold
You'll be sightseeing by luxury coach with deluxe and superior first class hotels on this loop around Ireland heavy with activities, Irish night life and tours. You'll stay in Dublin, Galway, Killarney and Waterford. Your tour will include a Killary Fjord catamaran cruise, sheepdog trials at Caherconnell, horse-drawn car ride in Killarney, Irish coffee and music session at the marine Bar in Dungarvan, a visit to the Guinness Storehouse, plus dinners at Jarvey's Irish Night and O'Connell's Restaurant in Dublin. The package also includes admissions to Book of Kells at Trinity College, Clonmacnoise Monastic Site, Kylemore Abbey, Cliffs of Moher, Skelling Experience, Muckross House and Gardens, Blarney Castle, Blarney Woolen Mills, House of Waterford Crystal and Waterford's Medieval Museum. March through October departures.