Let our Bucket List Concierge™ Team plan your dream vacation now!
Contact Us
Spain and Portugal Escorted Tours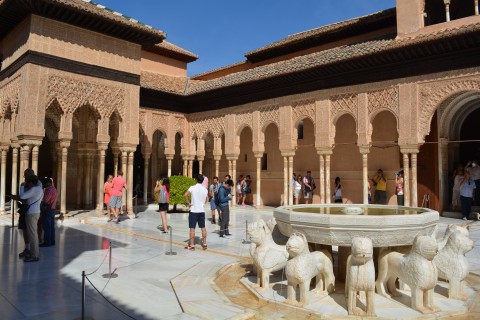 Are You Ready for an Iberian Holiday
Magnificent landscapes combined with the Spain and Portugal's many regional traditions and customs are constantly offering new experiences unlike anywhere else in the world. From the eye-catching architecture and scenery to flavorful food and wines, not only will your taste buds be tantalized, but your mind as well. With the cities overflowing with shopping, dining, nightlife, and the charming coastal towns that possess the essence of the relaxing Iberian lifestyle, there truly is something for everyone to fall in love with.
Below are our recommended escorted tours to Portugal and Spain, based on their quality, range of experiences and accommodations. Prices are per person, double occupancy for late 2016 and 2017 escorted tours.
Call for prices. Prices will vary by tour date and not all departures maybe available. Please call us at 804-557-3006 or toll-free 855-462-8253 for single and triple rates.
14 Days, Madrid, Bilbao, Porto and Lisbon
Explore spectacular natural beauty, works of art, famous architecture, unique cultures and delicious cuisine on your journey through Northern Spain and Portugal. In Toledo, step back in time as you stroll its medieval streets and alleyways. Stop for tours and tastings at great Spanish and Portuguese wine cellars. Be amazed at the architecture and art collection of Bilbao's Guggenheim Museum. Discover Santiago de Compostela, one of the most popular pilgrim destinations since the Middle Ages. Sleep in the famous paradores of Spain and Portugal's wonderful pousadas. Spend time in Porto, birthplace of Prince Henry the Navigator. Watch Portuguese cuisine come to life during an interactive cooking class. Feel like a member of the European royalty with a three night stay at the Baroque style Pousada de Queluz. In Lisbon, choose to marvel at the priceless treasures of the National Museum of Coaches or take in the local life of the historic Alfama district. Through history, art, wine, cuisine and breathtaking accommodations, experience the endless treasures of Spain and Portugal. March through November departures.
14 Days, Classic Spain and Portugal
Explore Lisbon, Portugal, Europe's second oldest capital city. Visit the pilgrimage center of Fatima, the picture perfect fishing village of Nazare and the medieval walled town of Obidos. Experience Spain's colorful pageant of art, history and culture. Set against a backdrop that spans sunny Mediterranean shores and grand mountain ranges, this stunning destination is dotted with white pueblos and groves of oranges and olives. Explore the priceless treasures of the Royal Palace, Europe's 2nd largest palace. Visit the exotic and expansive Alhambra palace, resplendent with Moorish regal flair. See the Cathedral of Seville, the 3rd largest in the world. Enjoy reserved seating at a flamenco show and feel the passion of this famous dance. Explore Madrid, Valencia, Barcelona, Granada, Cordoba and Toledo. Become part of an authentic "paella experience," and learn how this rice dish is made and where it originated. Marvel at Valencia's "City of Arts & Sciences." See how precious lladro figurines are made by hand. View Antonio Gaudi's architectural masterpieces, including La Sagrada Famila. Spain beckons. March through November departures.
13 Days, Southern Spain and Portugal
Enjoy a true taste of the Iberian Peninsula. In Madrid, you choose your experience: a city tour and tour of the renowned Prado Museum with a local expert, or a walking tour of the city's Hapsburg-era architectural treasures. Travel via high-speed train to the Moorish city of Cordoba. Relax in a parador on the Costa del Sol. Tour Granada's Alhambra Palace. Marvel at the architecture of the Cathedral of Seville, third largest in the world. Visit Ronda, an architectural marvel in Andalucía. Choose from a panoramic tour of Lisbon with a visit to the coach museum or a walking tour of the Moorish Alfama Quarter. Enjoy a 4-night stay on Portugal's Riviera. Visit the Mafra Palace and Monastery, one of the most impressive Baroque buildings in Portugal. Travel the Silver Coast and visit Fatima, the world-famous pilgrimage site. Enjoy leisure time for independent explorations.
11 Days, Barcelona, San Sebastian/Bilbao, and Madrid
Relax and immerse yourself for three days each in three of Spain's most contrasting and cultural cities and their neighborhood regions. Vibrant Barcelona, idyllic San Sebastián and historic Madrid. In fact, spend a little time here and you'll discover that Spain is more an amalgam of fiercely independent regions, each with their own culture, gastronomy, folklore and language. As the people from San Sebastian & Bilbao or Barcelona will attest; they are Basque and Catalonian respectively, not Spanish. San Sebastian, with more Michelin Starred restaurants than any other city in Spain, is the 2016 European Capital of Culture. April through November departures.
10 Days, Madrid, Seville and Lisbon
Delve into three grand cities of the Iberian Peninsula, each filled with unique treasures to uncover. Spend time exploring Madrid, Seville and Lisbon with multiple nights in each. In Madrid, it's your choice. Join a local expert exploring the priceless masterpieces of the Prado Museum or discover Hapsburg Madrid on a walking tour. Take a journey on the thrilling AVE high-speed train. In Seville, explore the monumental compound of the Royal Alcázar and walk the winding narrow streets and quaint courtyards of Barrio Santa Cruz. Converse with a flamenco dancer during a "tapas lunch." Then, be treated to reserved seats at a flamenco show. Discover Evora, the "Museum City of Portugal." In Lisbon, see one of the world's finest art collections at the Calouste Gulbenkian Museum. Explore Lisbon your way when you choose between an expertly guided panoramic city tour and a walking tour of the Alfama District. Marvel at five centuries of Portuguese decorative ceramic tiles (azulejos) and enjoy the captivating sounds of Fado music during dinner. From beginning to end, you will have plenty of time to explore, get to know the charms and savor the atmosphere of each of these magnificent cities. March through November departures