Let our Bucket List Concierge™ Team plan your dream vacation now!
Contact Us
Canada Escorted Tours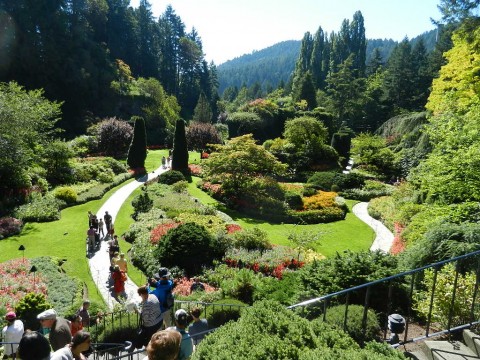 Breath-Taking Canada
Here are our favourite escorted tours for enjoying the scenic wonders of Canada.
The Canadian Rockies overwhelm the senses with stunning beauty. Don't miss the Waterton Lakes NP, Banff NP, Kootenay NP, Jasper NP and the Athabasca Glacier.
And don't forget Victoria's world famous Butchart Gardens or the prize mussels of Prince Edward Island or the power of Niagara Falls.
Call for prices. Tours are priced per person double. Please call us at 804-557-3006 or toll-free 855-462-8253 for 2017, 2018, single and triple rates.
11 Days; Canadian Maritimes; 17 Meals
Halifax [2], Baddeck [2], Charlottetown [2], Saint John [2], Oak Island [2]
10 Days; Canadian Rockies and Glacier National Park
Calgary [1], Waterton Lakes NP [1], Lake McDonald [1], Lake Louise [2], Jasper [2], Banff [2]
10 Days, Canadian Rockies by Rail
Vancouver [1], Victoria [2], Rail to the Rockier [1], Jasper [2], Lake Louise [1], Banff [2]
10 Days; Canadian Rockies; 13 Meals
Vancouver [1], Victoria [2], Kelowna [2], Lake Louise [2], Banff [2]
9 Days; Canadian Rockies by Train; 13 Meals
Vancouver [1], Via Rail The Canadian [1], Jasper [2], Lake Louise [1], Banff [2] Calgary [1]
8 Days; Best of the Canadian Rockies
Calgary [1], Lake Louise [2], Jasper [2], Banff [2]
8 Days; Best of Eastern Canada; 11 Meals
Montreal [2], Quebec City [2], Ottawa [1], Toronto [2]
7 Days; Wonders of the Canadian Rockies
Lake Louise [1], Jasper [3], Banff [2]
7 Days; Canadian Rockies and Glacier National Park; 9 Meals
Calgary [1], Waterton Lakes [2], Banff [3]
7 Days; Canada Winter Wonderland; 8 Meals
Edmonton [1], Jasper [2], Lake Louise [1], Banff [2]